Creators of the new documentary Under Our Skin – A Dave and Goliath Story recently launched an Indiegogo crowdfunding campaign to raise nearly $100,000 for the film's production. The documentary gives viewers the behind-the-scene history of Washington Redskins owner, Daniel Snyder and his legal woes against sportswriter Dave McKenna.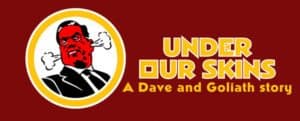 Explaining the epic court battle, the filmmakers wrote, "The lawsuit was a responsible to an infamous – and satirical – article penned by McKenna in 2010 for Washington's City Paper. The Cranky Redskins Fan's Guide to Dan Snyder was obviously written with tongue firmly planted in cheek as it chronicled the missteps of the Snyder era in A to Z fashion. That article is where our film begins.
"After reading the sharp dissection of his reign of errors, Mr. Snyder took McKenna and the City Paper to court claiming libel, slander, anti-Semitism – you name it, the billionaire owner tried to claim it. He hired high powered legal teams in LA, NY, and DC. The City Paper brought in Floyd Abrams, the famous First Amendment lawyer who had argued the Pentagon Papers case. It was game on – complete with illegal procedures, personal fouls, and a couple of Hail Mary's – all fitting into the category of "you can't make this sh*t up" as the suit played out in public and in private.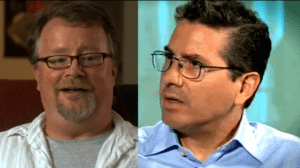 "Fundraisers to help pay for Dave's legal defense cropped up around the city. He then had to find his own lawyer – ace attorney Bruce Brown – to represent him. The sports website DEADSPIN even created a 'We Are All Dave McKenna' site, and a folk hero was born. Dave may have put together a massive file (writing almost 500 articles about Dan Snyder) but he was way ahead of the curve when  it came to keeping a close and critical eye on the Skins owner. Now, national publications like Rolling Stone and ESPN's Grantland have joined Dave on his bandwagon. Rolling Stone putting Snyder as #1 on their list of 15 Worst Sports Owners, and Grantland –giving  him the title of 'Worst American Professional Sports Owner.'Are these titles deserved?
"But this First Amendment battle between Dave McKenna and financial powerhouse Dan Snyder is just the opening drive of what promises to be a poignant and pointed look at the embattled reign of a billionaire over a much-loved football franchise in PR free-fall because our Goliath is still stumbling through a series of bad football decisions and, even worse, ill-conceived public relations stunts in response to yet-another controversy—this time about the name Redskins.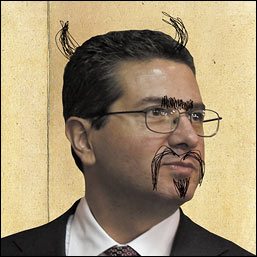 "Dave is still writing. Dan is still making his case. We want to hear from both of them. The Skins are still Dan Snyder's team. But as fans, they are our team as well and we want to have a voice. Under Our Skins – A Dave and Goliath Story is a funny, relevant twist on the classic battle of the little guy versus money and power. As we look at the Snyder era, we'll also for the first time go behind the scenes of the lawsuit and what followed. And we hope Mr. Snyder will tell us his side of the story. Help us make this movie."
Also sharing the impact they hope the film will cause, the documentary's creators shared, "Ultimately, we think this film is more than just a funny look at a bumbling, fumbling football franchise. There are real issues here about Dan Snyder's apparent sense of entitlement, freedom of the press and, as the controversy grows, no matter how you feel about it, the mishandling of the issue surrounding the team's name. And we don't want it to be one-sided and it won't be. We'll present the story, the issues, and let the viewers decide."
In regards to meeting with Snyder so that he may share his take on the situation, the creators added, "Mr. Synder, we'd love to talk with you for this film. The trailer and the treatment present a point of view of you that many of the fans and some members of the media have made public over the last 16 seasons. Please talk to us and let folks know your side of the story."
______________________________________________________
Have a crowdfunding offering you'd like to share? Submit an offering for consideration using our Submit a Tip form and we may share it on our site!