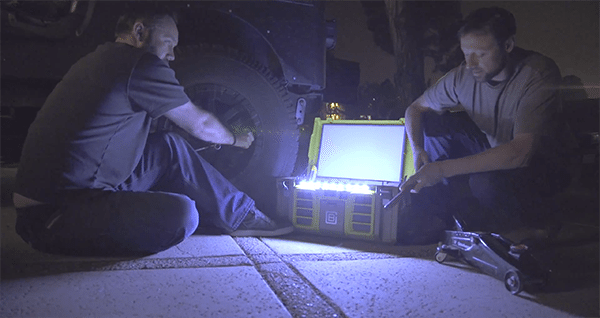 Coolbox, the self-dubbed world's most advanced toolbox, has been campaigning on crowdfunding giant Indiegogo since late January and has raised 330% of its initial $50,000 goal. The Coolbox offers consumers features they would expect from a classic toolbox, along with several unique additional features of the 21st century that have never been seen before.
Each Coolbox comes equipped with built-in, marine-grade 40w Bluetooth speakers that are also compatible with auxiliary cords. Built-in LED lights are mounted internally and externally to help consumers find and use the correct tool. The inside lid holds a removable, double-sided dry erase board that is perfect for drawing out construction plans. Dual cradles allow consumers to dock a tablet, which enables people to view the directions for their DIY project as they work. Additionally, the front panel of the Coolbox includes two USB ports for charging electronic devices.
A 20v rechargeable battery allows consumers to charge their devices and operate small power tools while working including drills, saws and sanders. Unplugged, Coolbox can power the USB ports for up to ten hours and the Bluetooth speakers for seven.
The creators of the Coolbox found inspiration in the frustration they experienced when having to carry lights, phone chargers and speakers with them to job sites. They knew there had to be a way to integrate all of the technology that people enjoy everyday into a classic toolbox design.
Co-founder of Coolbox, Chris Engelo explained, "It is kind of shocking that it's taken this long for toolboxes to catch up with technology. People who work with toolboxes likely use technology in every other area of their life, so there's no reason for tools to be stuck in the past."
Coolbox will be funding on Indiegogo until March 12th. Project backers can still receive a Coolbox for a discounted price of $169, which is $130 less than retail price. For an extra $39, backers will receive signature-edition Coolbox tools. Manufacturing is set to begin in May with volume production beginning in June.

Sponsored Links by DQ Promote