From Thursday (February 19th) to Saturday (February 21st), the nation's largest cannabis expo CannaCon, will take place in Seattle, Washington at the beautiful Bell Harbor International Conference Center located on Pier 91 at Smith Cove. Marijuana icons Tommy Chong, best known as one-half of the legendary cannabis-fueled comedy duo Cheech & Chong, along with Cheryl Shuman, known in the industry as the Martha Stewart of marijuana, headline the convention.

CannaCon is a "smoke-free" business expo for growers, processors, retailers and those interested in the emerging cannabis industry. Exhibitors will be offering thousands of goods and services designed to stimulate state of the art cultivation equipment, innovative processing and extraction methodologies, and successful management and marketing tools and resources.
Smart Promotion's director of operations, Alyssa Hoppe stated,"CannaCon is dedicated to building lifelong partnerships with the entire Cannabis Industry. This can't miss networking opportunity at the convention will showcase the best of breed industry products and entrepreneurs making history by leading the sector."
Chong, who served a nine-month prison sentence in 2004 for shipping bongs to Pennsylvania and battled prostate cancer in 2012 with a controversial cannabis oil protocol, has become a passionate advocate for cannabis freedom and fairness. Now at 76 years old, Chong adds entrepreneur to his resume with his new line of medicinal marijuana called Chong Star, The "Chong Roller" by Futurola and the Tommy Chong Green Card, a frequent buyers club card for consumers. The card, retailing at $19.95 may be loaded to spend at dispensaries as cash while earning points and rewards such as discounts on favorite strains, show discounts, and monthly specials.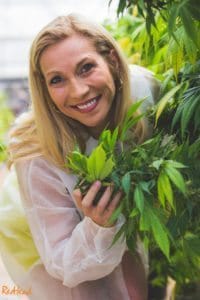 Cheryl Shuman is the Founder of the Beverly Hills Cannabis Club (BHCClub.com), CEO of Cheryl Shuman Inc. (CherylShuman.com/) and a cannabis expert who has generated over $537 million worth of earned media, which has had a huge impact on shifting the course of history and overall public opinion. Shuman was recently featured on the cover of Adweek as Pot's First Marketer, in Elle Magazine as The Most Powerful Women in the Pot Industry, and named The Cannabis Queen of Beverly Hills by The New York Times Sunday Magazine. Shuman recently announced the launch of CannaDabbaDoo, the marijuana industry's first cannabis business crowdfunding platform
Shuaman noted, "Marijuana is the investment opportunity of our lifetime and through CannnaDabbaDoo and Cheryl Shuman Inc.'s business development division, we are pioneers blazing the trail matching investors to cannabis related businesses. Investments are driven by the broader legalization of marijuana, inspired by state's need for tax revenue and early adopters are excited at the potential growth of this industry.
Shuman will be speaking on Thursday, February 19 at 10:30 a.m. on Funding and Investing in the Cannabis Industry.
Smart Promotions, Robert Smart added, "If you're serious about success, CannaCon is the most important event for you to see, and for your company to be seen at."
At CannaCon there will be 50 educational seminars across three full days of programming designed to cultivate success in CannaBusiness, covering topics from start-up to sales. Additionally, aspiring Budtenders can participate in the CannaCon Budtender Certification course where they will learn about products, proper dosage, safe consumption, and cannabis customer service over five (5) hour-long sessions.

Sponsored Links by DQ Promote