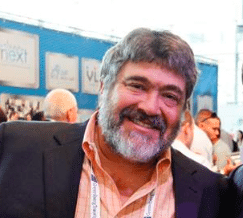 The inaugural 2015 Canadian Crowdfunding Summit (#CCS2015) will take place on March 3rd at the MaRS Discovery District in Toronto, Canada. Organized by the National Crowdfunding Association of Canada, the event boasts a solid list of speakers and participants for their first event.  A broad spectrum of Canadian and international leaders in the crowdfunding space have committed to present at the conference.  The opening keynote address will be delivered by Jon Medved, CEO and founder of global equity crowdfunding platform OurCrowd.
The event will cover all aspects of the nascent industry including rewards / donations crowdfunding as well as investment crowdfunding. The summit has organizes almost 30 different panels and workshops revealing how crowdfunding is transforming the way organizations are raising capital online while unlocking the potential of early stage customers and investors in the funding ecosystem.  There will also be a pitch event where 12 startups will present their companies.
The announced full list of featured speakers and participants at #CCS2015:
Adam Spence, CEO, SVX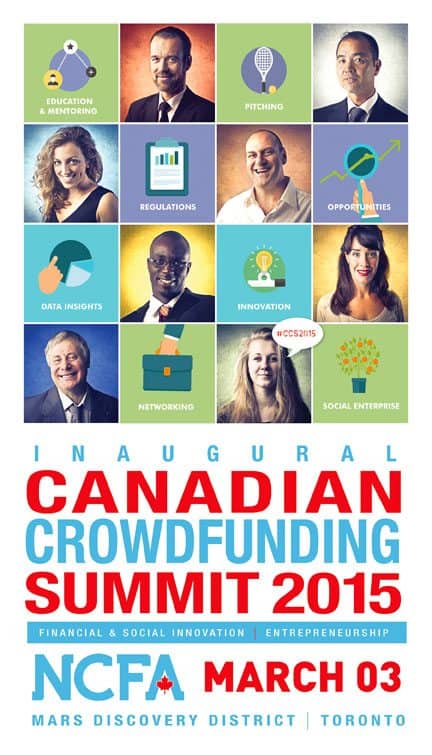 Alixe Cormick, President, Venture Law Corp
Andrew Gardner, Founder and Chief Designer, Polar
Andrew Graham, CEO, Borrowell
Apostolos Sigalas, Founder, GreedyGiver
Avi Goldfarb, Professor of Marketing, Rotman School of Management, University of Toronto
Benjamin Webster, CEO/Founder, Mass Fidelity
Brendan Dellandrea, Director, Marketing and Communications, Digital Media Zone
Bret Conkin, Founder, CrowdfundSuite
Brian Koscak, Partner, Cassels Brock
Carlos Pinto Lobo, Chief Compliance Officer, The SVX, MaRS
Christopher Charlesworth, Co-Founder, HiveWire
Craig Asano, Executive Director, NCFA
Darrell Etherington, Technology Writer, Techcrunch
Daryl Hatton, Founder and CEO, FundRazr
Diana Yazidjian, President, DFY Consulting
Douglas Cumming, Venture Capital Professor, York University, Schulich
Erin Bury, Managing Director, 88 Creative
Gil Michel-Garcia, CEO, Wafu
Gimmy Chu, CEO, Nanoleaf
John Wires, Startup Legal Advisor, NCFA Canada, Founder, Wires Law
Jonathan Medved, CEO, OurCrowd
Klever Freire, CEO, DreamQii
Marcus New, Founder and CEO, InvestX
Mark Evans, Principal, ME Consulting
Matthew Atkey, Capital Markets Associate, Torys LLP
Matthew McGrath, CEO and President, Optimize Capital Markets
Neil D'Souza, Co-founder / Director Operations, Mass Fidelity
Nik Badminton, Regional Director, North America, Freelancer
Ontario Securities Commission Representative
Peter-Paul Van Hoeken, CEO, Silver Maple Ventures
Raphael Bouskila, Co-founder and President, CoPower
Richard Remillard, President, Remillard Consulting Group
Robert Wakulat, Co-founder, Wakulat Dhirani LLP
Rose Spinelli, Founder, The Crowdfundamentals
Rubsun Ho, Chief Crowdpleaser, Crowdmatrix Inc.
Sean Moffit, Managing Director, Wiki-Brands
Sean Stanleigh, Report on Small Business and Globe Drive, The Globe and Mail
Steve Tam, Steve Tam, Hardware, Tech and Design Lead, Indiegogo Canada, Indiegogo
Tabitha Creighton, Co-Founder and CEO, InvestNextDoor
Tim Jackson, Executive Vice President, Corporate and Community, MaRS
Tonya Surman, Founding CEO, Centre for Social Innovation (CSI)
Victoria Lennox, Co-Founder, CEO, Startup Canada
12 Startups pitching live at #CCS2015:
Chris Jansen, Founder, Textbooks for Change
Corey Rosenfield, Founder, Qoints
Daniel Bida, Founder, Zooshare
Dwayne Wanner, President, Highlander Brew Co.
Ewart Newton, Founder, JUMP Math
Frank Bouchard, Founder, Wipebook
Frank Pears, Founder, Makerbloks
Henry Chong, Founder, Revelo Electric
Milan Baic, Founder, Pinch VR
Pigeon, Keith Beckley, Founder
Timothy Booth, Founder, Arts Funding
Tricia Lee, Founder, A Film Monkey Production Inc.
To learn more about the pitching companies click here.
There are a limited number of media passes available.  Please contact [email protected] by Feb 25 if you would like to request a media pass.  More info click here.
About the National Crowdfunding Association of Canada
The National Crowdfunding Association of Canada (NCFA Canada) is the leading, and only, national non-profit trade association actively engaged with both social and investment crowdfunding stakeholders across the country.  NCFA Canada provides education, advocacy, leadership, support, and networking opportunitites to over 950+ members and works closely with industry, government, academia, community, and eco-system partners and affiliates to create a strong and vibrant crowdfunding industry across Canada. For more information please visit: