Last week, Star Wars and The Book of Eli writer, Gay Whitta launched a campaign on book publishing crowdfunding platform Inkshares to raise funds for his new novel, Abomination. 
Whitta wrote on the campaign's website, "Hi! My name is Gary and I'm a screenwriter turned author. My best-known work is my original screenplay for The Book of Eli, the post-apocalyptic thriller starring Denzel Washington. I also co-wrote the Will Smith sci-fi movie After Earth, and helped create Telltale Games' The Walking Dead, for which I was the co-recipient of a BAFTA award for Best Story. Most recently, I served as screenwriter for the upcoming Star Wars  standalone film which will be released next year. Currently I'm writing the movie adaptation of the Mark Millar comic Starlight for 20th Century Fox.
"I can't tell you how excited I am to present to you my first novel, Abomination. I chose to write this particular story as a book because I wanted to create a story that I could present to an audience in its purest form. While a screenplay is the blueprint for something you hope many other people will transform into the finished product that is a film, a novel is itself the finished product, an opportunity for a writer to tell their story directly to an audience. It's been a really fun and refreshing experience to do that with Abomination."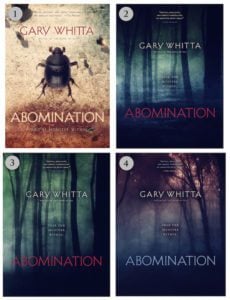 Sharing details about Abomination, Whitta explained that the book is set in England during the reign of Alfred the great. The story involves magic, monsters, heroic knights and even a headstrong woman on a vengeful quest. "As King Alfred struggles to defend his beleaguered realm from hordes of Viking invaders, the Archbishop of Canterbury stumbles upon an ancient secret — a dark and mysterious magic that could turn the tide of the war in England's favor. But when exposure to the magic corrupts the Archbishop, Alfred commands his greatest knight, Sir Wulfric, to hunt the mad priest down — with terrible consequences to follow…
"With Abomination, I wanted to combine the trappings of a good old-fashioned monster yarn with more substantive human themes. At its core the story is, I hope, a meditation on the powers of forgiveness, mercy, humility, kindness, and love. It is the tale of two very different, but equally tragic, heroes, each on their own path to damnation, but who ultimately find salvation within each other. I hope you enjoy their journey together."
The book has already attracted a lot of readers and reviews have already begun to roll in. The Nerdist stated, "Brutal, brilliant, and deeply compelling, Abomination is quite simply mandatory reading. You may as well call in sick to work now because the moment you pick up Abomination, you won't want to put it down. This is historical fantasy done right."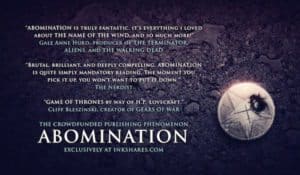 Co-writer of Guardians of the Galaxy, Nicole Perlman added, "An epic blend of black magic, badass monsters, broadswords, and bloodshed. Abomination is the kind of book that sticks with you — Whitta's twisted creatures are so memorable that you almost look forward to encountering them again in your nightmares."
Since its debut, Abomination's campaign has raised well over its initial $16,000 goal and 1,890 copies have been pre-ordered. The book is set to be available in May 2015.
___________________________________________________________
Have a crowdfunding offering you'd like to share? Submit an offering for consideration using our Submit a Tip form and we may share it on our site!