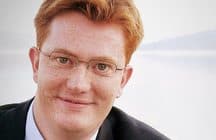 Chief Secretary to the Treasury, Danny Alexander, noted today the overwhelming importance of small business to the national economy;
"Small businesses are the backbone of the British economy, so it's only right that the government supports viable small businesses, particularly those struggling to access conventional finance."

"To ensure we help our small businesses as much as possible, I have commissioned a report exploring how the CDFI sector can operate more sustainably. This will provide more evidence about the sector and building on this, CDFIs will be able to help even more viable smaller businesses access the finance they need to grow."

The pronouncement was delivered during a visit to the Fredericks Foundation in Oxford. Fredericks Foundation is a microfinance charity.
The British Business Bank has been tasked with delivering new research for a report on the sustainability of Community Development Finance Institutions (CDFIs). The results are expected this coming June. CDFIs make loans to small businesses.  In 2014, CDFIs were said to have lent £72m to small businesses and microenterprises, creating over 15,000 jobs.
This government is firmly behind small businesses – that's why we're looking at how we can further support the community finance sector", saidEconomic Secretary to the Treasury, Andrea Leadsom. "Community Development Finance Institutions help viable businesses and social enterprises that are unable to secure lending from high street banks. They also provide help to households that need to meet unexpected expenses and might otherwise use payday lenders. Last year CDFIs created 15,000 jobs and it's only right that we look at how we can ensure that the sector continues to thrive.
Sponsored Links by DQ Promote