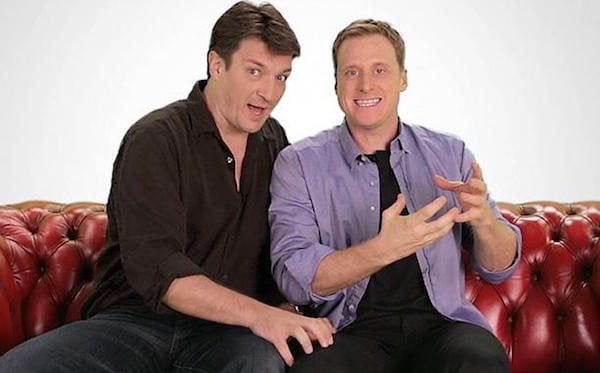 With their Con Man crowdfunding campaign continuing to be super successful on Indiegogo, former Firefly co-stars Nathan Fillion and Alan Tudyk sat down with CBS to share details about their new web series.
As previously reported, show's creator, writer, and director Tudyk shared:
"It's about the convention world. My character, Wray Nerely, was on a science fiction show called Spectrum, that was canceled too son, and now he goes to conventions, to sign head shots, meet fans and do panels. Nathan's character, Jack Moore, who was the captain of the spaceship on Spectrum, has gone on to incredible action-hero stardom, like Matt Damon. My character is frustrated with his situation and frustrated by Jack's stardom.

"We follow Wray's story as he goes to the conventions and does video game voiceovers and we are going to popular it with sci-fi actors and people that you will find at conventions. Zany hi-jinks ensue!"
During his latest interview, Tudyk discussed why he and Fillion decided to create the new series:
"Nathan and I have been going to conventions for years now and we've seen the enthusiasm from fans… they are actual people that you've met, hugged, taken pictures with – answered questions and talked to."
Fillion joked:
"When I go to conventions, fans are excitable, they are happy to see me. When Alan goes to conventions, it's very much the same reaction – if not, just a little less probably.

"But when we're together, the excitement is exponential. And I think this Indiegogo campaign is perhaps a reflect of that… Together we are strong, and that is now our new motto. I think people are excited to see us together because 'together' is how most of them know us – through Firefly.

"We're together more than people realize. We haven't been able to work together a lot since Firefly. So this is our opportunity to do that and not only that – it's within the convention world."
Sharing what's in store for the series, Tudyk stated:
"We're going to end up on a spaceship now. We are going to do all 12 episodes that I wrote and you're going to be able to see us on a spaceship in space.

"Now that we're going to be doing those [spaceship] episodes, there's going to be some special effects that are going to take a little bit of work… Now that people are still pledging money and we've gone beyond our goals, there are things that were cut out that we can shoot now."
In regards to their fans gathering on the platform to raise over $2 million in one week, Fillion added:
 "We're surprised that the fans have been so immediate in their response."
Have a crowdfunding offering you'd like to share? Submit an offering for consideration using our Submit a Tip form and we may share it on our site!