The Funding Network ("TFN"), an international, London-based organization that will created a unique "crowdfunding" event model, announced that it conducted its fourth New York City event earlier this month, which three pre-qualified and selected non-profit organizations will make six-minute pitches to potential donors at TFN's live-ly crowdfunding events. This is the latest in an ongoing series of events staged throughout TFN's 12 year history during which it has matched donors with projects in the U.K., Canada, South Africa, Australia, New Zealand, Romania and Bulgaria.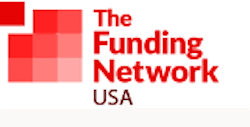 The March 11th event was hosted by Macquarie Group, a global financial services firm and an ongoing partner and supporter of TFN.  Comedian Christian Finnegan and subway phenomenon "Poorly Made" will be appearing.
TFN has created its unique "crowdfunding" event model to raise money for smaller, worthy charities by allowing individuals to come together and pool small donations in response to presentations they hear directly from those organizations at meetings such as this. These events have cumulatively raised more than $10 million for 1000 organizations from approximately 6200 donors who have donated from $20 to several thousand dollars.
TFN's members propose charitable projects for these events which are assessed by a selection against its criteria and vetted by a committee of TFN members. These projects are designed to address such challenges as poverty, health, social inclusion, peace building, human rights and international development through initiatives such as campaigns, documentary filmmaking, education programs and social enterprise.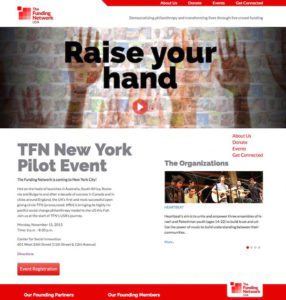 A representative from each organization is allowed six minutes to present its work and six minutes for questions and answers before leaving the room, at which point an auction-style fundraising session begins. Anyone in the room can raise a hand and donate a minimum of $100. The "bidding" continues with the aim of achieving $15,000 for each organization. Each non-profit organization receiving donations provides an update of its progress on the TFN website within 12 months after receiving a grant.

A major partner of The Funding Group in Australia since its inception and a supporter of this event is the Macquarie Group Foundation, the philanthropic arm of Macquarie Group, which supports a range of community programs around the world. The Foundation contributes meaningfully to the communities in which its staff live and work in Australia, Asia, Europe and the Americas.

Macquarie Group is a global provider of banking, financial, advisory, investment and funds management services. Founded in 1969, Macquarie Group now employs more than 13,900 people in 28 countries. As of December 31, 2014, Macquarie had assets under management of $US372 billion. It is listed in Australia (ASX:MQG; ADR:MQBKY).

Sponsored Links by DQ Promote