Looking to his devoted fans for support, Star Trek alum, George Takei has launched a campaign on global crowdfunding platform Indiegogo for his latest project, Allegiance on Broadway.
Sharing details about the upcoming Broadway show, Takei stated:
"I was only a small child in 1941 when Pearl Harbor was bombed. But I still remember the gleam of rifle bayonet as two soldiers marched up our driveway and banged on our door, ordering us out of our Los Angeles home. I remember my mother's tears as she tried to stay strong, even as we took only what we could carry. They herded us like cattle onto train and shipped us over a thousand miles away to the swamps of Arkansas.

"We lost everything: homes, businesses, savings, even beloved family pets. We languished for years behind barbed wire fences as prisoners held without charge, trial, or due process, all for the 'crime' of looking like the enemy. It was an injustice of staggering proportions.

"As an actor and an activist, it has been my life's mission to tell the incredible story of the thousands of families who endured the Japanese American Interment during World War II. The upcoming Broadway musical Allegiance and the Japanese America National Museum are the intersection of my art and activism. Inspired by my life experience and those of internees like me, the show celebrates the triumph of the human spirit in the face of adversity. I consider it my Legacy Project, and I've come up with a way for the Japanese American National Museum to be a part of it. But I need your help."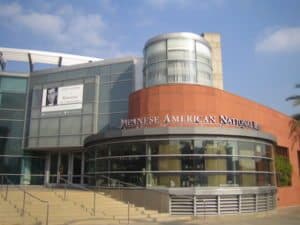 Allegiance is described as an "epic' multi-generational story about Japanese Kimura family (mainly the tale about the brother and sister Sammy and Kei). Their journey will take them from the safety of the rich California heartland to the wastelands of Wyoming and then to the battlefields of Europe.
Takei will play the role as an America war hero that will recount his family's experience. The show will offer a rare and personal look into a time when everyday citizens became heroes.
Explaining why he decided to go to the crowdfunding platform for help, Takei noted:
"Typically, a show gets to Broadway with funding by a group of producers and investors. Allegiance's producers have accepted my call to action for crowdfunding, with a minimum goal of $250,000, but with the potential for much more. The contributions here will act as if they had been invested by the [Japanese American National Museum]. The show will assign a proportional percentage of its profits to the museum, creating a source of funding for it in perpetuity.

"Located in the heart of Little Tokyo in Los Angeles, the JANM promotes understanding and appreciation of America's ethnic and cultural diversity by sharing the Japanese American experience. I am Chairman Emeritus of the Board of Trustees and a founding member of the museum. It was here that I married my husband, the love of my life, Brad Takei.

"The museum, Allegiance, and I share the same mission: to tell stories that educate and ensure that we never forget, and never repeat, the tragedy of the Japanese American internment. By giving today, your dollar is helping Allegiance get to Broadway this fall and helping create a new endowment for the museum, a permanent source of revenue for this wonderful institution."
In regards to the contributions that may be received throughout the campaign, Takei added:
"Small things can have great impact. As we say in Allegiance, 'A mountain can be moved, stone by stone.' While no contribution is too large, neither is any too small. Indeed, a single dollar is a meaningful gift when we give together for a common purpose.

"Art, in any form, has the power to transform minds and hearts, and creates the possibility that fear and prejudice will cease to spark injustice. Everyone who contributes, regardless of amount, will have their name added to my virtual wall of fame on the show's website.

"If a contribution is not possible at this moment, your voice is still valuable. Take but a minute to share this campaign with your friends, using the power of social media, and show them that stories like this continue to matter.

"You might be asking, 'George, you're a celebrity, why do you need my help?' I would never ask anyone to do something I would not do myself. I have already personally invested in the production, though I recognize our mission is bigger than any one person. Your participation is also your advocacy. It produces a Broadway show, creates an endowment for a museum, and brings us together as voices for justice and change. It is the best of all possible worlds, a legacy you help me pass on. This torch I have carried, I now pass to all of you.

"I hope you will be inspired to support and share this campaign. Together, we can do this. From the bottom of my heart, thank you."
Those looking to fund the project will be rewarded by being put on George's Virtual Wall of Fame, which will be created to acknowledge those who participated in the campaign.

Since its launch, Takeis' Allegiance has raised nearly $155,000 from over 9,400 backers. It is set to close on May 19th.

__________________________________________________

Have a crowdfunding offering you'd like to share? Submit an offering for consideration using our Submit a Tip form and we may share it on our site!

Sponsored Links by DQ Promote