Back in 2012 into 2013, Yashar Behzadi and Greg Moon, co-founders of San Francisco-based popSLATE, took to crowdfunding giant Indiegogo to raise $150,000 for their invention – the second screen case for smartphones. Within its 30-day run on Indiegogo, the project captured well over its initial goal and reached nearly $220,000 thanks to over 1,500 backers.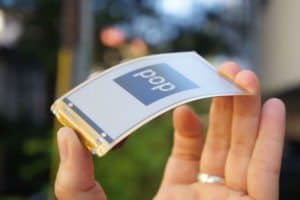 Now, Behzadi and Moon are ready to share details about their crowdfunding adventure, including the ups and downs. During an interview with Re/Code, Moon revealed why the funding method has become so popular over the past few years with startups:
"Little companies like us were coming up with novel product concepts… and doing it in a lean way, there can be a little bit of a mismatch between what your vision and what crowdfunding can do for you."
Sharing how they created the two screen product, Behzadi explained:
"We unlocked the phone, launched an app, access one bit of information – and do that over and over again. That's a broken paradigm. TO give people the little bit of information they need, there's huge amount of effort."
Also noting the struggles that they faced during the creation process, Behzadi said:
"Bringing it to mass production required a little bit of hustle – Greg and I affectionately termed it the charm campaign. We had to educate everybody being first in class, with nothing to point to, that this is a space people are interested in."
In regards to making the product and remaining loyal to the backers, Moon added:
"The thing that allowed us to persevere through this, and ultimately deliver to our backers, is two-fold. Seeing positive reactions to the product, and knowing we are onto something that needed to be brought market. That commitment, the promise that we made [to investors] kept us up at night. We didn't want to be those guys that didn't deliver on what we promised."
Have a crowdfunding offering you'd like to share? Submit an offering for consideration using our Submit a Tip form and we may share it on our site!