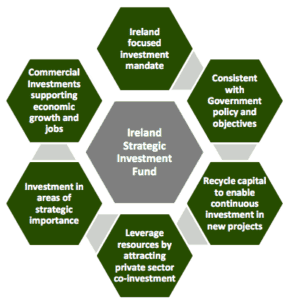 The Ireland Strategic Investment Fund (ISIF) is sizing up the opportunity of investing in peer to peer loans following the lead of other global institutions.
ISIF is a sovereign fund that was established in December of 2014 with a statutory mandate to invest on a commercial basis in a manner designed to support economic activity and employment in the State.  According to the National Pension Reserve Fund's site (NPRF), their assets become the assets of the ISIF.  The "discretionary portfolio" of approximately € 7.2 billion will be available for the mandate. The National Treasury Management Agency (NTMA) controls and manages the ISIF.
According to a report in IPE, ISIF has said it will regard any platforms using the internet as principle means of originating new loans by next generation lending platforms. They include peer to peer lenders which are funded from retail sources and from  other institutional sources and balance sheet platforms.  ISIF would be creating a "Platform Investment Fund" (PIF) that will be utilized to as the funding vehicle. The NTMA has been accepting proposals for the management of the PIF with the deadline closing last week (April 2nd).
The ISIF's head of infrastructure and credit finance, Donal Murphy, was recently quoted on the resurgent banking sector that causing it rethink its approach to SME lending.
Expectations are that loans supported by the PIF would typically be for less than € 500,000.