Last week, Lawrence B. Jones III staff member of Glenn Beck's The Dana Show, launched a crowdfunding campaign on GoFundMe to raise only $200,000 to keep the pizzeria alive after its owners announced their support for the Indiana Religious Freedom Restoration Act.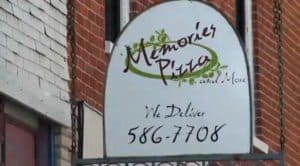 The support caused major backlash towards the restaurant due to the law allowing any state or local government action may not substantially burden a person's right to the exercise of religion unless it is demonstrated that applying the burden to the person's exercise of religion is:
Essential to further a compelling governmental interest
The least restrictive means of furthering the compelling governmental interest
While chatting with the Washington Post, Jones stated:
"We have an obligation to stand up for freedom. It's not a gay or a straight issue. We love our gay brothers and sisters… We're sick of being regulated when it comes to free enterprise. What better way to speak out than giving your own personal money?"
Revealing how the campaign was created, Jones explained that he set up the campaign and surprised the family with the project:
 "I set up the GoFundMe account. We selectively decided we wanted to help this family. [The funds] all goes to them."
During another interview with Indiana's WNDU, Jones shared details about the backlash that he has received from creating this campaign:
"We've had to increase security. [The protestors] were sending death threats towards me and my mother. All of our hosts were getting threats. This stuff has really gotten ridiculous. Just from us responding and saying, 'Let's just create the account.' The backlash has been unbelievable."
Meanwhile, the media outlet revealed that after the news surfaced that Jones was affiliated with Glenn Beck and James O'Keefe, those opposed to the new law began to cry foul about the campaign's real mission. Forwardprogressives.com wrote:
"While the outrage toward their announcement was certainly legitimate, the GoFundMe campaign that was launched to support Memories Pizza and has currently raised over half a million dollars is about as genuine as a three dollar bill.

"Conservatives who support the religious freedom laws that have become popular in red states across the country ahead of the Supreme Court's expected ruling have poured their money into this campaign, but the sad fact is that they've wasted their funds once again on another publicity stunt to help out a business that decided to become a political martyr; it's a publicity stunt by The Blaze and a financial windfall for the owners of Memories Pizza."
In regards to recent accusations about the campaigns being fake, Jones added:
"It's just strange. There were rumors that this was funded by the Koch brothers… these were average, everyday people giving, and they still want to give."
Have a crowdfunding offering you'd like to share? Submit an offering for consideration using our Submit a Tip form and we may share it on our site!