On Wednesday, popular reward-based crowdfunding platform Kickstarter unveiled its Transparency Report 2014 that shared details about the year's trademark claims, DMCA requirements, and government and law enforcement requests.
The platform shared:
"Kickstarter's mission is to help bring creative projects to life. As part of that mission, we work to foster creativity and artistic expression, while always striving to be clear and transparent about our policies.

"Today we're reinforcing our commitment to those values by releasing this transparency report. It details requests and claims we received in 2014 about projects and members of our community, from people and companies with copyright or trademark complaints, and from law enforcement and government entities. Transparency around these requests can help to ensure that they are being made for the right reasons.

"Like many internet services, Kickstarter receives notices under the Digital Millennium Copyright Act from people and companies that say material on our site infringes their copyright. We evaluate each notice to ensure that it meets the formal requirements of the DMCA, that it isn't directed at material that qualifies as fair use, and that the material is actually copyrightable. If a notice about a project is valid, we put a hold on the project and remove it from public view.
Revealing details about DMCA monitoring, Kickstarter noted:
"The DMCA allows the project creator to file a counter-notification disputing the claim. In some cases the dispute is resolved and the project can continue its funding. In others it isn't. All DMCA notices that result in a project being hidden are published on the project page and at Chilling Effects."
Meaning the following:
Kickstarter received and evaluated 282 DMCA claims in 2014.
The platform rejected 159 — or 56% — of these claims.
It took some action (like removing images or videos, or hiding the project from public view) in response to 123 — or 44% — of these claims.
A project may receive more than one report. The 282 claims Kickstarter received involved 240 separate projects, or 0.3% of all projects launched in 2014.
46 projects are currently hidden from public view as a result of a DMCA claim."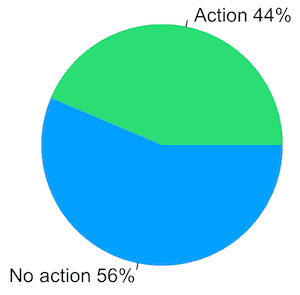 Kickstarter also revealed the breakdown by category of the projects that were the subject of DMCA claims:

Also explaining trademark claims, Kickstarter stated:
"Trademark claims aren't covered under the DMCA or any similar statutes. We evaluate each claim, and if it is valid, we take appropriate steps, which may include hiding the project from public view."
This includes:
Kickstarter received 28 trademark claims in 2014
With 12 claims it took no action.
With 12 claims the platform hid the project from public view.
 With 4 claims Kickstarter asked the submitter to resolve the issue with the project creator
10 projects are currently hidden from public view as a result of a trademark claim."
In regards to government and law enforcement requests, the global crowdfunding platform added:
"We cooperate with requests from law enforcement and governments to the extent required by law, and after evaluating the legitimacy of the requests.
Noting:
In 2014 we received 8 requests for user information from government and law enforcement agencies. Of those agencies, 6 were in the United States and 2 were in Europe.
Of the 8 requests, 3 were in the form of subpoenas, and we released some information in response. We did not produce any information in response to the other 5 requests.
Governments sometimes serve requests for information — usually related to national security — that restrict a service provider like Kickstarter from revealing that they've received or responded to such a request. These requests most frequently come in the form of National Security Letters or orders from a FISA court. To date, Kickstarter has not received any national security requests for user information."
Have a crowdfunding offering you'd like to share? Submit an offering for consideration using our Submit a Tip form and we may share it on our site!

Sponsored Links by DQ Promote