Earlier this year, founders of the London-based Levantine restaurant Hummus Bros., Christian Mouysset and Ronen Givon, issued a bond on crowdfunding platform Crowd2Fund to raise £150,000.  During the course of the campaign, Hummus Bros. successfully captured over £174,000 from 54 investors.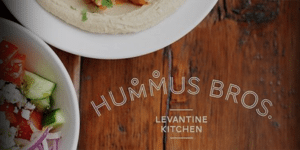 Now, Mouysset is ready to share details about the restaurant's experience with crowdfunding, along with its upcoming Seedrs campaign.
During the interview with City A.M., Mouysset explained why he and Given turned to the funding method for the business:
"We have always used a mix of debut and equity to fund our expansion, and will continue to do so. With the Hummus Bros. bond, we successfully raised over £170,000. Raising debt allows us to limit giving away equity, but it has a regular cost to the business in the form of interest.

"In the past, we have raised finance from angel investors, alongside taking loans from the bank. The experience was good in both circumstances. But unfortunate, bank lending and other traditional sources of finance or small businesses has dried up in the wake of the crisis, and isn't providing the capital they need to grow. Our angel investors are participating in this current round of crowdfunding.

"Crowdfunding is a great way for businesses to source capital, grow, and provide more exciting services, products and jobs. It'll enable us to not only grow the business, but will also allow very loyal customers to participate in the success of the company. And that also creates ambassadors for our brand. Several of our business contacts are considering using crowdfunding or have recently used it, like Oppo ice cream.

"Crowdfunding is a great financial innovation, and that chimes with how we operate as a business. Whether it's introducing new dishes like quinoa and kale topped with falafel, or releasing our mobile app to allow our customers to pre-order and jump the queue, we enjoy constantly innovating."
Sharing what he plans to do with the funds from the recent campaign, Mouysset shared:
"Our funding round will allow us to open two to four new branches – outside the capital – and explore the opportunity to offer our preservative-free hummus in supermarkets. Supermarket sales of hummus in the UK are worth £100m per year with no established brands. We'd like to become the Innocent or Gu for hummus."
Also revealing the feedback he and his employees have received, Mouysset noted:
"We've had great feedback from investors that are looking to back us. They love the product that we serve, and are excited about our new product development (in particular our sweet potato falafels and Shakshuka) and our routes to market.

"Being able to invest in a company that is local to you allows you to both have an influence on the type of businesses that flourish in your neighbourhood, and also boost job creation. This, in turn, raises more tax revenue for the government, which may then choose to invest it in the infrastructure and services in your area."
In regards to picking Seedrs for the next funding round, Mouysset added:
"We chose Seedrs because it's the leading London-based equity crowdfunding platform in Europe. The experience so far has been extremely good. Seedrs has helped put the campaign together, including the video, but has also fact checked everything we've mentioned in our pitch. Its team has asked us to provide third party proof for awards we have won, to back up our health facts, and to justify the benefits of using high pressure processing technology (a pasteurisation technique used to make hummus). To me, this means that investors can trust the information the business is presenting."
Have a crowdfunding offering you'd like to share? Submit an offering for consideration using our Submit a Tip form and we may share it on our site!