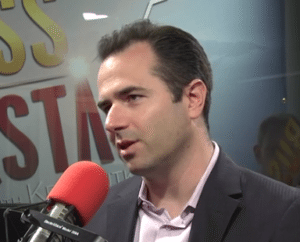 SeedInvest Managing Director Andrés Diana recently gave a brief 6 minute interview on Business Rockstars. SeedInvest is one of the leading accredited investor crowdfunding platforms that intends on moving into the retail space – perhaps later this year with Title IV or Reg A+.
Diana explains why SeedInvest is so great.  The team at SeedInvest does a deep dive of due diligence for every deal creating a highly selective offer for potential investors. This is in contrast to the pure listing platforms that take anyone for a fee.  Investors obviously appreciate this type of validation as it helps mitigate risk for intrinsically risky investments.
SeedInvest raised a Series A funding round last year and they are using a portion of that capital to expand across the country – adding local operations to 10 different cities by the end of 2015. They primary look at early stage tech companies including hardware, IoT, software and big data. Both pre revenue and more established firms may be accepted.
Described more like a "Super Angel" Andrés states, "We really look to be an active participant and to get to know the investors in our companies and to figure out where we can fill the gaps". They have a database of almost 10,000 accredited investors and they strive to help listed companies become a big success. "We try to give an unfair advantage [to succeed] to a company just as a VC would".
Andrés states they want to give the same deal for smaller investors as the institutions receive.  They do allow SPVs at times – but this is contingent upon the company and usually when the issuer is setting a smaller minimum for investors.
Any liquidity events? Not yet. But then it has been less than two years – and early stage companies usually require some patience..
Worth a watch and embedded below.