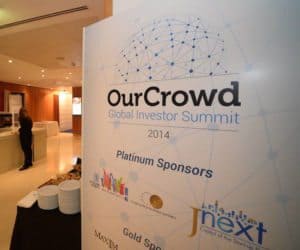 Every year Red Herring recognizes hot young companies in Europe, the Americas and Asia.  The top 100 awards has generated substantial industry respect becoming a marquee event for Red Herring. This year Israel, batched in with Europe, claimed 19 out of the top 100 – an impressive percentage of promising startups.  Even more impressive was the fact that 6 out of the 19 are OurCrowd portfolio companies – several in the midst of raising funds.
OurCrowd is one of the leading global equity crowdfunding platforms. Their model is one that marries professional investors, and associated due diligence, with crowd investors. A highly selective platform, OurCrowd invests in every single issuer on their site.  Not only does this improve confidence for outside investors but it also guarantees that OurCrowd is doing everything it can to create a financial success.
The OurCrowd portfolio companies recognized by Red Herring are listed below:
BioCatch has developed a novel form of authentication used by online businesses to continuously guarantee users are who they say they are by analyzing behavioral and cognitive response patterns. The company refers to its unique, patent-pending approach as Proactive Cognitive Profiling. Whenever a user interacts with a client's online application, BioCatch analyzes up to 350 cognitive-behavioral usage patterns for that user, and utilizes machine learning algorithms to generate a unique user profile.
HIL Applied Medical is developing a new class of ultra-compact, high-performance accelerators for cancer proton therapy. HIL is applying a novel, patented approach to particle acceleration and beam delivery, based on high-power lasers and nanotech targets with nanotechnology and ultra-fast magnets. The technology was conceived and incubated at the high-energy physics lab of the Hebrew University in Jerusalem and further developed by HIL's outstanding team of world-renowned scientists.
MentAd has developed a unique platform that solves the problems marketers are faced when trying to reach new customers and grow conversions. The company aims to empower companies to maximize their customer acquisition success by helping them identify what characterizes their existing customers, find the most profitable opportunities to reach new relevant customers, and leverage these opportunities to drive customers to the site and grow conversions.
MUV Interactive has designed and developed a pioneering state-of-the-art solution for interacting with multiple screens and media sources, through touch, remote and voice interaction. MUV's device instantly changes any projected item into an interactive screen with precise touch and remote capabilities. MUV's product is highly accurate even from a distance of 20 meters and is a fraction of the cost of competing technologies. Current potential venues for MUV's solution include large presentation environments, corporate boardrooms, educational institutions, broadcasting studios, and command & control centers.
Ubimo was founded with a mission to transform mobile advertising. Ubimo's platform strategy is centered on providing easy-to-use ad campaign management tools, unparalleled reporting and insights, highly sophisticated and contextual campaign targeting capabilities, and dynamic ad creatives. The company believes that understanding real-world context is key to providing users with better services and more relevant content.
VocalZoom has developed "optical microphone" technology that enables high quality voice communication and voice recognition in any environment. VocalZoom's unique speech-enhancement microphone, using optical sensors, substantially improves voice recognition quality in real-world conditions regardless of background noise level. With word recognition rates of up to 95% in noisy situations and a competitively priced product, VocalZoom is positioned to disrupt the rapidly growing, multi-billion dollar voice recognition market.
Sponsored Links by DQ Promote