Last week, Washington D.C. resident Charles Gladden hit the media spotlight when he revealed the struggles he has faced everyday due to the low income of workers around the city.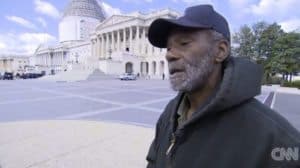 According to CS Monitor, Gladden stated that he makes $11 an hour sweeping floors and cleaning bathrooms in the Senate building and the majority of his wages is spent on his daughters and grandchildren, who are also struggling economically. His efforts to help his family, along with his battle with chronic health problems, have left him unable to afford housing.
Gladden shared:
"I work for the most powerful people in the country and there I am sleeping at a subway stop."
After Gladden's story made headlines, former bandmate of the '90s music group Boys II Men, Nathan Morris announced that he was not only willing to give to the homeless man, he was also wanting to launch a crowdfunding campaign to help him find a place to live.
Morris wrote on the campaign's website:
"This man needs a place to live. I want to raise $10,000 to help this man a find a place to live and get him back on the right path.  I am looking for a total of $20,000 but I will personally donate $10,000 from the Boyz II Men House to get us half way to that goal. I've been blessed beyond belief and blessings are made to be shared, so I'm hoping many of you no matter how small the donation, can try to help me reach this goal."
Morris went on to add:
"As many of you know I'm not a big social media guy due to the constant championing of negative and even sometimes evil content shared, but this story really touched my heart and is a prefect example of how we can easily lose sight of what really matters in life."
Sharing his thoughts about Morris' new funding initiative, With Charities For All author, Ken Stern stated:
"[The campaign] might be helpful for Mr. Gladden, and God help anyone who wants to help those in need, but obviously the problem of homelessness is a multi-billion dollar problem. This man is working in the Senate, and the Senate has the power to help millions of people. Those are the sustainable solution that we need. There are thousands of people out there who need this type of help."
Although since its launch Gladden's campaign has secured its initial $20,000 goal, Stern noted that the celebrity attention and the successfully crowdfunding projects do not have long-term results:
"This happens with some frequency, when a celebrity takes on an issue. Celebrities have a huge megaphone in society. But these problems beg for long-term solutions and commitment, and celebrity campaigns can often be transitory. Is a one-off crowdfunding campaign a solution when you have large scale problems?"
Have a crowdfunding offering you'd like to share? Submit an offering for consideration using our Submit a Tip form and we may share it on our site!

Sponsored Links by DQ Promote