New Australian-based modular Android smartphone Fonkraft seemed to have it all, it was perfect for the every day tech savvy person.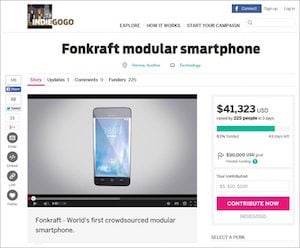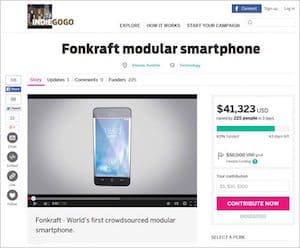 Its "Pilot" model was an entry-level/basic and was priced at a reasonable $100. It features a 5-inch, 720p display, a dual-core processor and 1GB of RAM, plus an 8-megapixel rear camera and a 2-megapixel front cam.
The Pilot, along with another model from Fonkraft surfaced on Indiegogo to raise only $500,000 for production costs.
For a $200 donation, backers were going to receive the Resolution model, which has a screen's pixel count of 1080p, and the rear camera to 20-megapixels. The processor also gets bumped up to a quad-core 2.5GHz chip, and the internal memory increases from the 8GB on the Pilot to 64GB. The battery decreases in capacity to 2800mAh. The Fonkraft smartphone runs Android 5.0, supports 4G LTE bands, and contains Wi-Fi, Bluetooth, NFC, and GPS as standard.
Unfortunately, the new smartphone may have been considered a bit "too perfect" and was shut down by Indiegogo not long after it reached its funding goal. Reportedly, an email sent to backers from the platform that the campaign was removed and all backers were refunded, there was no reason why it was pulled. It has been reported by multiple media outlet that this move could be caused by the fact that some questioned the project authenticity.
The message from Indiegogo's Trust and Safety stated:
Hello there,

This is Indiegogo's Trust and Safety Team. We are reaching out to inform you that the campaign (Fonkraft modular smartphone) that you contributed to has been suspended due to not meeting our Trust & Safety standards. While we cannot share specific details of the campaign, please note that we have already refunded your contribution.

We apologize for any inconvenience this might have caused you. We continually review campaigns and as new information arises we may take action such as suspending a campaign to protect contributors.

Thank you for your understanding.
About a week after being pulled by Indiegogo, the Fonkraft team revealed more details about the decision:
As many of you may have heard our Indiegogo campaign has been pulled off by Indiegogo's Customer Happiness Team, the decision that we're absolutely are stunned about. We're strongly feel that it was not fair to us and not fair to our backers as well.

We feel that we've been subjected to some kind of witch-hunting or complete judgement error. A second day into our campaign we've had a message from Indiegogo's Customer Happiness Team declaring that our campaign has been flagged for additional review. We've been given a short timeline in which we had to provide confidential information which we did and in punctual manner, fully co-operating. Shortly after we've received such a response:

"Thank you for your patience. We appreciate your cooperation throughout the review process. Unfortunately, after reviewing your campaign and campaign activity, we have determined that your campaign is too risky to continue raising funds through Indiegogo. At this time, we have removed your campaign from our platform and will be processing refunds for your campaign. Indiegogo strives to maintain a balance between being an equal opportunity platform while simultaneously protecting the security of our users, and the decision to remove your campaign was not made lightly. We appreciate your understanding and sincerely apologize for any inconvenience."

Since then we haven't received any more details about what we've exactly did wrong or how. At this time our campaign is deleted from Indiegogo as well as our campaign account. We're left frustrated and clueless but will not fall victim to speculation and will not comment on this issue further.
Also revealing the details about the fraud accusations, the team explained:
Shortly after our campaign was pulled off by Indiegogo, although not all, but substantial part of the media focused it's attention on speculation whenever our campaign was a fraud. We are deeply hurt by such accusations and there's nothing to it apart from subject to bad journalism. Here's why they are dead wrong:

Fully refunded: As of this moment every person out of 320 backers is fully refunded.

Refund claims: During short 3 days of our running we've received some refund claims, mostly due to accidental contributing which we fulfilled.

Indiegogo [claims]: Referring to the official statement of Indiegogo's Customer Happiness Team, Indiegogo itself has never stated that we are a subject to fraud, in fact only saying, that: "we have determined that your campaign is too risky to continue raising funds through Indiegogo", and that: "the decision to remove your campaign was not made lightly."

Given that there is no place for speculation, no point can be made about an event of fraud and clearly, we've been subjected to typical crucifixion of media that level only of yellow press.
In regards to whether or not they are going to Kickstarter, the team added:
At this moment due to strong regulations of campaigning on Kickstarter we don't meet all of their necessary requirements to run. We're working towards it and plan on re-launching as soon as possible.
Have a crowdfunding offering you'd like to share? Submit an offering for consideration using our Submit a Tip form and we may share it on our site!

Sponsored Links by DQ Promote