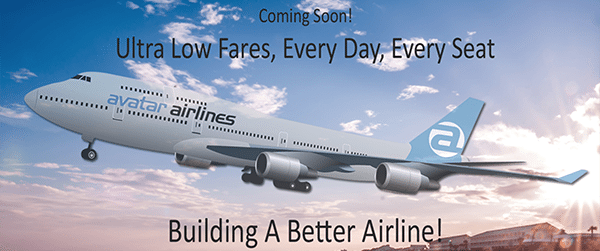 Ostensibly hoping to become a low cost alternative, Avatar Airlines has launched a self-crowdfunding campaign at www.HelpAvatarFly.com. The funding project allows the public to give as much, or as little as they like, with donations ranging from $5 to $9,750 for perks.  If you want a T-Shirt though you will have to pitch in at least $25. The 30-day campaign goal is set at a hefty $5 million.
"HELP AVATAR REACH CRUISING ALTITUDE"
Avatar Airlines had attempted to set up a campaign on Indiegogo earlier this month but was immediately removed from the platform due to questions about the legitimacy of the project. Not letting a small "glitch" get in their way, the aspiring airliner has decided to go it alone.
The creators explain on their site;
"By utilizing Boeing 747-400 planes—which are able to carry four times as many passengers as the typical 737—as well developing other profit centers, Avatar Airlines will be able to drive down the cost per seat mile without charging passengers additional fees for items such as baggage (up to two) or Wi-Fi.
"Additionally, Avatar Airlines plans to offer passengers the opportunity to pre-order in-flight meals and beverages online and offer businesses branding and advertising opportunities. Under this visionary model, Avatar Airline's fares are projected to be 50% or lower than current carriers, thus making travel truly affordable. Sample fares would include: Los Angeles to New York, $79; Las Vegas to Los Angeles, $19; and New York to Miami, $49."
To convince backers to donate to the project, the airliner has added a few "perks."
The opportunity to join the Avatar Airlines flight team as a Pilot ($5,000), First Officer ($3,500) or Flight Attendant ($375). (Perk is for an interview only. Must meet minimum requirements for job position. Employment is not guaranteed).
$7,777: A fabulous Vegas getaway that includes round-trip tickets for two from any city in the Continental U.S., limo transportation to a Four Star Strip hotel for a two-night stay, cocktails and dinner with Avatar Airlines' founder and a helicopter ride over the Grand Canyon.
$9,750: The adrenaline-pumping Captain for The Weekend Experience in Miami, FL that includes, round-trip tickets for two from any city in the Continental U.S., 747-400 ground school instruction followed by two hours in a simulator with a personal instructor, hotel accommodations, dinner with Avatar Airlines' founder and a commemorative Captain's cap.
Other perks include a "Reach For the Sky" t-shirt, Avatar Promoter, Certificate of Appreciation, and limited edition poster. Campaign donations received from this initiative will be used to help the new airline begin preliminary operations.
Unsurprisingy not everyone has been impressed with the funding and flying strategy. While some rationally questioned the validity of Avatar Airlines, others examined the project and found some flaws in its description. According to CrankyFlier, some of the airliners promises seem to be almost too good to be true:
"The basic premise is hugely flawed. The airline is going to work its airplanes hard, flying them a ton. Each 747 will have 539 coach seats and 42 'Office' class seats. The general plan is to work unit costs down as low as possible by spreading them out over a ton of people all day long. But there's a huge problem here.

"The airline's first route will be a milk run: LA to Vegas to New York to Miami and back. One airplane will start the morning in LA and head east while the other starts in Miami and heads west. They'll get to the other side and then turn around. This is a hilariously bad plan."
"How many of those 581 seats do you think will be filled going from LA to Vegas early in the morning on a Wednesday? Not a lot. You can do the same thing throughout the network and find plenty of holes. Airlines that focus on low costs thrive on scarcity. Allegiant flies to small cities and creates demand with low fares. But it has only around 150 seats to fill and it flies only a few times a week on many routes. If the demand isn't there during certain days of the week or different seasons, it just sits an airplane.

"Avatar won't have that. It will have far too many seats and will bleed out all too quickly unless it can start charging a lot more for those seats. So far its grand plan is to do all kinds of promotional stuff with advertisers to generate revenue. It's just not going to happen for a small airline that nobody cares about."
The CrankyFlier then added:
"Avatar isn't an airline at this point, but it's offering perks to people who pay, and that sounds like they're selling a product. That's not allowed. For example, if you donate $3,000 you become a Founders Club member. That includes access to early boarding, lounges, and upgrades when the airline is flying. Does that sound similar to when California Pacific People Express got in trouble for selling frequent flier program membership before it started flying? Sounds like Avatar is walking quite the fine line here."
Although it doesn't show how much has been donated to the new project, the original initiative received less than $50 before it was shut down by Indiegogo. And in case you were wondering, they do not (yet) have federal approval to fly.
---
Have a crowdfunding offering you'd like to share? Submit an offering for consideration using our Submit a Tip form and we may share it on our site!

Sponsored