Crowd2Fund, a regulated "five model" crowdfunding platform, has announced the launch of the Crowd Exchange, a new site that will a holders of debt or equity in private companies to sell their investments to other individuals online.  Crowd2Fund states the primary objective of the exchange is to create a much needed "central market" for trading new asset classes such as crowdfunded investments that otherwise remain illiquid.  Crowd2Fund is tackling a much discussed issue in the crowdfunding space – providing an exit for investors.
Crowd2Fund CEO Chris Hancock commented on the new exchange;
"The Crowdfunding sector has been crying out for a simple, inexpensive and transparent mechanism for exchanging small cap debt and equity investments. The internet and search engines such as Google make it possible for there to be far less need for heavy regulation and traditional compliance when compared with expensive alternatives such as AIM. We expect the Crowd Exchange to be largely self-governing due to the advent of wider access to information and the transparency which this brings. Investors now have all the tools they need to make their own decisions."

"One of the key challenges facing the Crowdfunding and P2P lending sector, which grew by £1.74 billion last year, has been to devise a means by which investors can exit their investments and gain access to their cash. The Crowd Exchange will make this possible, for loans which might otherwise take years to repay or for equity which might not attain material value until a company is either acquired or floated on a Stock Exchange at considerable expense."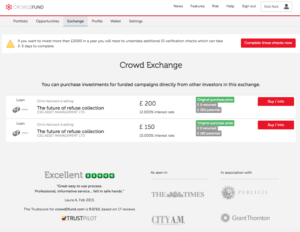 Crowd2Fund states  that they plan to form partnerships with institutions and wealth managers. The founders are confident that, if detailed data for each investment can be analysed more readily, this will attract the interest and subsequent liquidity of larger investors to the marketplace.
Crowd2Fund is a relatively new platform having soft-launched in 2014.  The site has funded over £1 million in deals since the beginning of 2015.