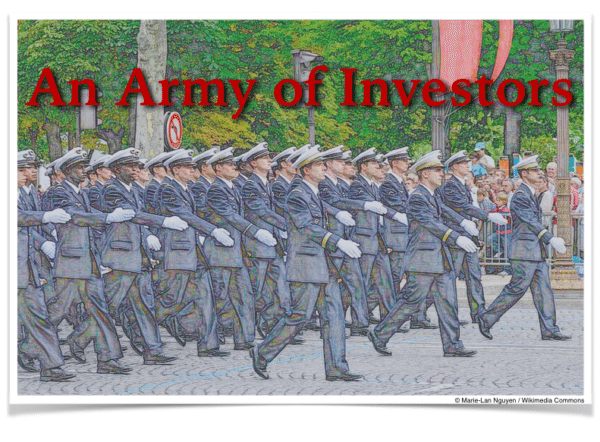 Crowdinvesting has contributed to the development of new organizational forms that in particular affects entrepreneur – investor relations. In this new reality, it is normal for startups to have an average of 125 investors. A potential burden for small founder teams, but also a potential opportunity that can help to leverage the growth of the company.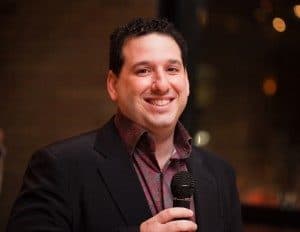 In a Venture Beat blog post, Mark Organ CEO & founder of Influitive, challenged the traditional notion of startup finance that large contributions from single investors or small syndicates is preferable over small contributions from a multitude of investors. After raising a seed round on AngelList, the company had 50 shareholders and committed stakeholders. In Mark Organs words 'An Army of Shareholders', with each shareholder representing unique opportunities to help grow the company.
Around the same time as Influitive´s funding round, a Swedish startup called Virtuous Spirits turned to crowdfunding platform FundedByMe to host their first investment round. In a rebellion against artificial flavoring, the company is producing a naturally flavored vodka. Virtuous Spirits raised 1 million SEK ~ $115,000 USD from 93 investors who bought into the mission and according to founder Claes Stenmark "…will move heaven and earth to help the company succeed". The investors have indeed been helpful to the company by being brand ambassadors, opening up to contacts on export markets and more. Virtuous Vodka recently came back to FundedByMe and successfully raised ~ $230,000 in a second funding round from 208 investors.
How did these two very different companies manage to engage and derive value from their investors?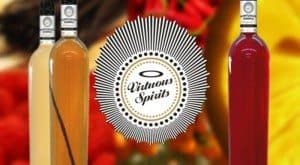 Virtuous Spirits invited investors to a forum where they can connect, share ideas and most important, share drink recipes. The forum contributes to the feeling of belonging to the company and adds a dimension of engagement to being an investor. Mark Organ and Influitive took an approach of actively engaging investors in the operation of the business by providing daily reports to shareholders who want them. They also share customer wins and insights into challenges the company is facing and winning against. In return, shareholders are referring high quality leads, solutions to challenges and more.
The common denominator between these two, very different startups is that both took an active approach to organize investor relations post funding. Crowdbacked companies that are not actively considering how investors can add value to the company risk losing out valuable network, information and problem solving.
Working with crowdinvestments at my firm we have collaborated with several founders to create appropriate strategies on targeting the right investors, as well as leveraging investors competences and network. We have developed the crowdinvestor canvas to help organize investor communication and create an investor relations strategy. The canvas is using 10 steps that companies with crowdinvestors should consider: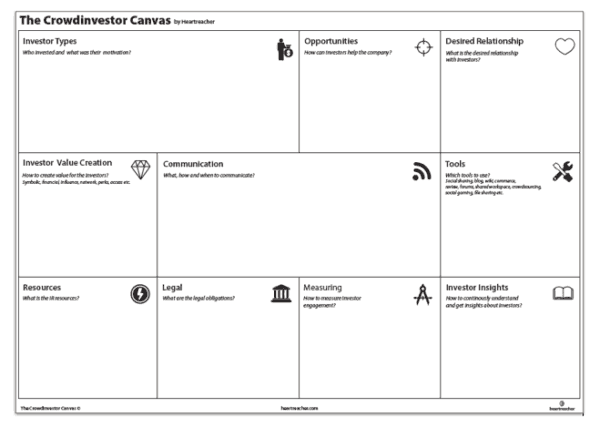 Investor types
Understand investors by mapping out their skills and network. Who are they, where are they from, what is their profession? Why did they invest and how much? This exercise can help you segment crowdinvestors and obtain information that can be valuable in growing the company or solving challenges.
We know from experience that investors are more likely to reply to concrete personal request rather than open ended enquiries in a forum.
Opportunities
Mapping out investor types can reveal competences and network that the company need in order to grow. In the case of Influitive, investors included founders of Hubspot, Marketo and Hootsuite enabling the company to leverage from network effects and open doors to leads and other stakeholders.
For Virtuous Vodka a clear opportunity was to activate investors with experience from retail in order to access distribution channels in Sweden and on export markets.
Desired Relationship
In crowdinvesting where investment amounts vary from donations like £10 to serious investments of £100k or more, most entrepreneurs want to diversify the relationship with investors based on the investment amount, investor's interests and level of engagement.  In some cases, entrepreneurs recruit crowdinvestors for advisory board positions. However, having 125 + investors in an advisory board is not beneficial to anyone. Thus placing crowdinvestors in different interest groups can be an optimal way of organizing and leveraging the abilities of crowdinvestors. Knowledge about investor's motivation and interests can help entrepreneurs to match investors with opportunities and establish investor relations segments.
Investor value creation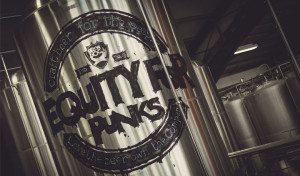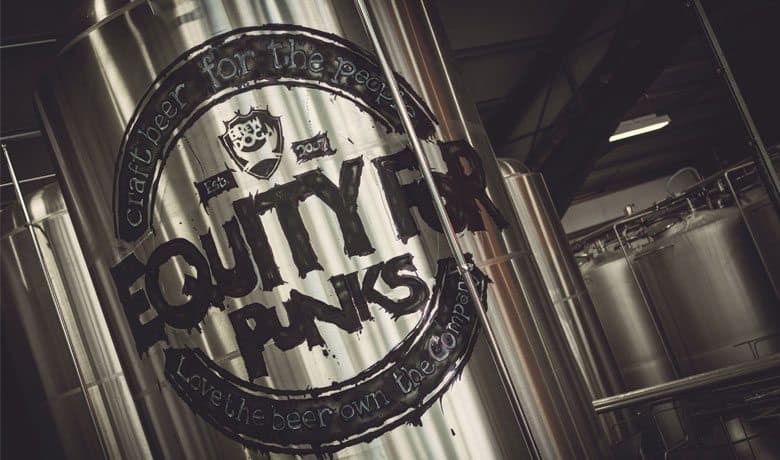 The role of investor relations in public companies is to please investors and inspire purchase of more shares. In other words creating value for investors can be profitable for entrepreneurs.
As shown by Nesta, in their 2014 analysis, the prospect of financial return is an important factor for 96% of crowdinvestors. Nobody likes to lose money. However, value creation can come in other forms than financial. Scottish Brewery Brewdog is an excellent example that crowdbacked companies can create a lot of investor value through other means. One of Brewdogs initiatives is a membership card that guarantee investors a discount on Brewdog Beers in selected bars and supermarkets around the UK.  The card creates a feeling of belonging while at the same time offering tangible value through discounts.
Resources
How many resources can be located to investor relations? For crowdbacked companies the primary motivation of engaging in Investor Relations activities is to grow the company through investor's financial and social capital. Investor Relations should not have priority over business. Thus, the mission is to calibrate the time spent against the possible outcome of engaging investors.
Tools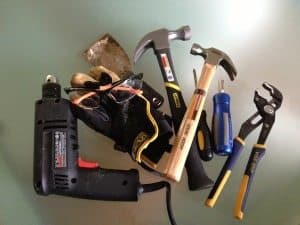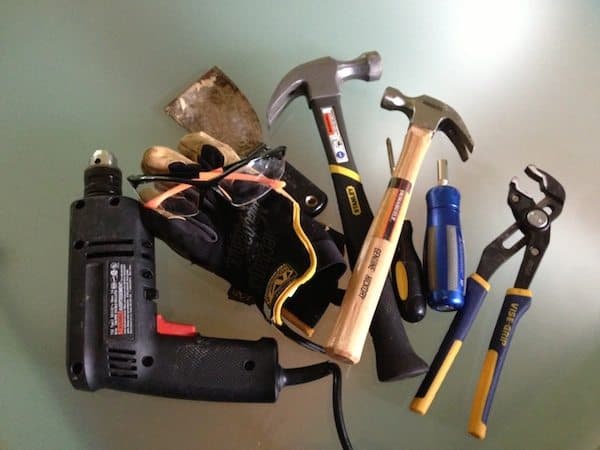 How tech-savvy are your investors? Which communication tools are most applicable to your company and investors? We often see that entrepreneurs use a range of different tools to communicate to investors: emails, facebook or Linkedin groups and blogs for longer updates. Using several different tools can be confusing and troublesome. Nevertheless, keep in mind that investors are different and possibly have a priority for a different type of media than you.
Legal
What is the legal requirement of investor information and updates in your country? Know that in some countries there are shareholder legislation that could be apply even in the case of crowdbacked companies.
Measuring
Investor Relations should create value for the company. Measureable value. Generic measures include activity level such as how many investors are reading newsletters, participating in discussions etc. while these parameters indicate how investors engage with the company they provide little insights into what tangible value is created for the company through investor relations. Instead, entrepreneurs could use the listed opportunities to generate measurable objectives. An example could be leads generated through investor´s network or per investor.
Investor Insights
With investors likely to be the first to purchase new shares. Staying updated on investor satisfaction can be very valuable to companies facing future funding rounds. How can crowdbacked companies, where share price is not determined by the market, keep updated on investor happiness?
While there is no best practice that is applicable for all companies. It is obvious that communication and continuous engagement is an excellent way to know more about investors. A last resort is questionnaire surveys, but surveys rarely yield good response rates.
Communication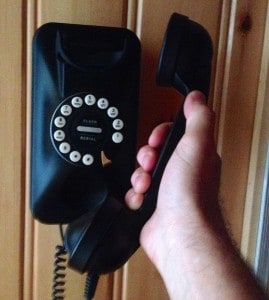 The reason to establish a communications plan is to create awareness in the company about which information to communicate and how to mediate the message to investors. Using the previous steps can provide helpful to create a strategy that can help entrepreneurs capture investor opportunities while not spending a minimum of resources.
Mark Organ of Influitive took an approach to create daily reports on progress to investors. Others prefer to make longer monthly or quarterly updates, conveyed through email or blogs. Brewdog invited investors to participate on a community billboard where investors can discuss everything related to the company. There is no right way of communicating to investors, but every crowdbacked startup should make an informed decision on investor communication in order to get maximum value at the least effort.
---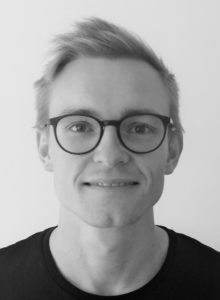 Casper Arboll is a firm believer in the potential of crowdfunding and co-founder of HeartReacher Crowd Consultancy. Assisting entrepreneurs with crowdfunding efforts in the rewards and equity space.
---
Sponsored Links by DQ Promote