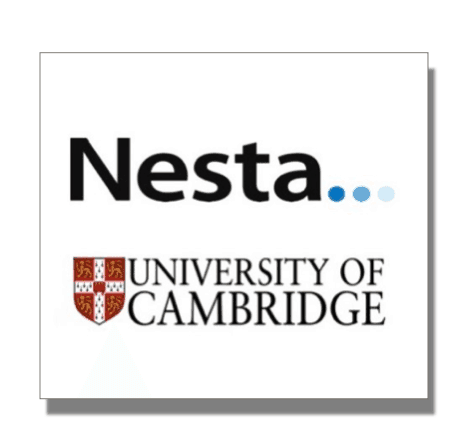 Nesta, a  UK based innovation charity and staunch proponent of entrepreneurship and creativity, has published an update on the alternative finance industry in the United Kingdom.  The report is a joint effort between Nesta and the University of Cambridge.  The report notes this new financial sector, that includes crowdfunding, peer to peer (P2P) lending, and other categories, has more than doubled over the past several years and stands to top £1.74 billion ($2.75 billion) by the end of 2014.
Liam Collins, co-author on the report, said:
"These findings shed light on a growing movement that is revolutionising banking, investing and giving by using technology to simplify the links between those who want to invest money and those who need it. With bank lending to SMEs down again this quarter, it's no wonder that alternative finance is fast becoming an important source of funding for individuals, businesses and organisations who struggle to access finance elsewhere."
"The UK is leading the way globally, and with significant potential for the market to expand it won't be long before we see alternative finance moving into the mainstream."
Bryan Zhang of Cambridge University who is also co-author on the report, added:
"2014 has been a phenomenal year for the industry and this record-breaking growth is set to continue into the next year and beyond. By connecting people directly and offering more efficient, diverse and transparent ways to invest or raise funds, alternative finance is increasingly becoming a viable source of capital for individuals and businesses alike. Although there are challenges ahead, the future looks very promising for alternative finance"
This nascent market is "racing ahead" and Nesta seeks to put some understanding and perspective to data they correlated from a wide audience of industry participants.  Some of the questions they hope to answer include:
What type of people and organisations use the different alternative finance models?
Why do people and organisations seeking money turn to alternative finance platforms?
What makes the model attractive to people with money to donate, lend or invest?
What is the socio–economic impact of alternative finance and how do organisations and businesses perform after fundraising on alternative finance platforms?
How do people find out about various alternative finance models and what do they think of them having used them?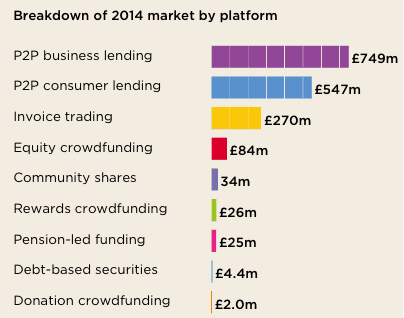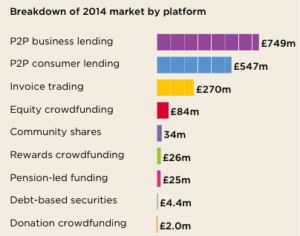 Some interesting data that exemplifies the rapid growth of the various sectors indicate that peer to peer lending is clearly leading the charge – yet equity crowdfunding is rather small but growing rapidly.
The breakdown of UK market by platform type for 2014, alongside its average growth rate over the last 2 years is as follows:
P2P Business Lending £749 million  @ average rate of growth of 250%
P2P Consumer Lending £547 million  @ average rate of growth of 108%

Invoice Trading  

£270 million  @ average rate of growth of 174%

Equity Crowdfunding £84 million  @ average rate of growth of 410%
Community Shares  £34 million  @ average rate of growth of 95%
Rewards Crowdfunding  £26 million  @ average rate of growth of 206%
Pension led funding  £25 million  @ average rate of growth of 5%
Debt based securities  £4.4 million  @ average rate of growth of 117%
Donation crowdfunding  £2.0 million  @ average rate of growth of 77%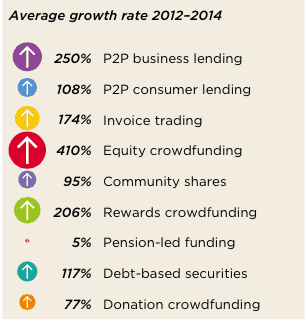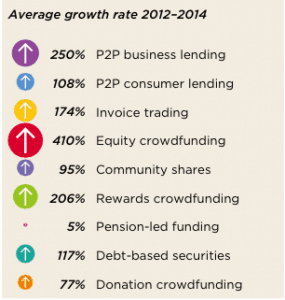 While much early consumer interest has focused on equity crowdfunding and supporting innovative startups clearly the efficiencies delivered by peer to peer lending, accompanied by solid returns for investors, is the largest driving force in the new forms of finance.
Nesta predicts the rapid growth will continue for 2015, spawned in part by a UK government that has embraced new forms of finance comprehending the profound benefits for consumers and the national economy.  Awareness of options by consumers and small business continues to remain low with less than 10% of respondent SMEs having approached a platform to seek finance.
Women play an interesting role in this ecosystem.  Nesta states that women make up the majority of fundraisers in both donations based and rewards based crowdfunding.  Males continue to dominate the P2P and equity crowdfunding sector.
Nesta sums up the present state of affairs by declaring;

"…by examining the level of awareness and usage by consumers and SMEs in a national context, it can be concluded that there is still significant potential for the alternative finance market to expand. However, in order to grow, the industry needs to continue innovating, educating users and addressing the various concerns consumers and SMEs have about alternative finance.

Our findings indicate that in many cases, alternative finance is still predominately used by older men from higher income groups. While this mirrors patterns of investment that we see in traditional finance, this indicates an opportunity for alternative finance to expand to other demographics and parts of society, and engage more women, younger people and those from lower income groups who are often not sufficiently served by traditional institutions."
The Nesta report is broadly encouraging. The authors, including Peter Baeck, Liam Collins and Bryan Zhang, have continued a tradition of aggregating quality data with insightful and thought provoking perspective that makes this document a must read for any policy maker or industry advocate.

The United Kingdom has largely led the global growth of new forms of finance. The United States can benefit from their experience.  UK regulators have been a unique catalyst and partner in promoting financial innovation.  In  this respect the United States has much to learn.

[scribd id=245823870 key=key-m7ko4RHsPY5jLlicLj5c mode=scroll]

Sponsored Links by DQ Promote