In an effort to end hate crimes and violence against the LGBTQ community, the "God Loves Gays National Billboard Campaign" project has been launched on YouCaring to raise $20,000 to post billboards in 20 states.

Last year, the creator of the God Twitter and Facebook page debuted a "God Loves Gay" billboard campaign on Indiegogo to raise funds for billboard advertisements that support God and his love for gay people in the hometown of infamous religion organizations, Westboro Bapitst Church.
Westboro Church is notoriously known for its hate protests at funerals, along with equal rights events throughout the U.S. They carry signs that have often read "God Hates Gay People." The organizer of the Indiegogo campaign wanted to approach the organization with love and fight for peace between the "church" and the LGBTQ community.
The campaign organizer for the YouCaring campaign wrote:
"God proposes purchasing space on billboards all over the United States of America with the message 'God Loves Gays.' The purpose of these billboards will be to show everyone that all humans are equal and loved by God.

"There are so many young LGBTQ kids who face daily bullying just for who they are. Sadly all too often LGBTQ teens take their own lives due to the extreme lack of acceptance they face from their family, religious institution, or bigoted bullies. It is extremely important that this message of love is spread throughout the world."
The funds raised will be put toward putting the "God Loves Gays" message on billboards in the following locations: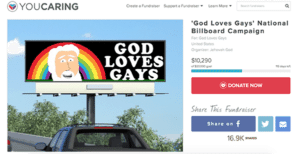 Kansas (Topeka, Wichita), Mississippi (Southaven, Hattiesburg, Gulfport), Alabama (Birmingham, Mobile, Montgomery, Texas (Houston, Lubbock, Irving, Mesquite, McAllen), Louisana (Baton Rouge, Metairie, Shreveport), Michigan (Dearborn Heights, Sterling Heights, Detroit) Arizona (Glendale, Peoria, Phoenix), North Carolina (Fayetteville, Gilbert, Raleigh), South Carolina (Columbia, Mount Pleasant, North Charleston), Oklahoma (Oklahoma City, Broken Arrow, Tulsa), Kentucky (Frankfort, Bowling Green, Owensboro), Ohio (Toledo, Cincinnati, Cleveland), Tennessee (Memphis, Chattanooga, Knoxville), Arkansas (Little Rock, Fort Smith), Virginia (Richmond, Williamsburg, Alexandria), West Virginia (Charleston, Huntington, Parkersburg), Indiana (Fort Wayne, Bloomington, Indianapolis), Missouri (Independence, Jefferson City), Alaska (Anchorage, Fairbanks), North Dakota (Bismarck), South Dakota (Sioux Falls), and Washington D.C.
Since its launch, the new initiative has raised over half of its initial goal. It is set to run for another 118 days.
Have a crowdfunding offering you'd like to share? Submit an offering for consideration using our Submit a Tip form and we may share it on our site!