One of China's largest direct sales platforms JD.com (Nasdaq:JD), and US based ZestFinance, a have formed an agreement to launch a joint venture called JD-ZestFinance Gaia.  This new partnership is designed to support the development of consumer credit in China.  The combined initiative will incorporate ZestFinance's credit decision technology and JD's deep consumer data to generate credit risk evaluations. JD has a database of over 100 million users. As part of the partnership, JD will also Jinvest in ZestFinance as it extends consumer credit in China.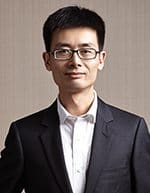 JD Finance CEO Shengqiang Chen said of the agreement;
"Chinese shoppers are hungry for convenient, reliable and fair credit channels. This requires both a systematic method for making decisions and a robust infrastructure that enables lenders to share data – neither of which is sufficiently developed yet in China. Today's announcement with ZestFinance, a leader in consumer credit evaluation, is a foundational step toward building a reliable system for assessing credit risk that will help meet the huge market need. We aim to be the single-stop solution for Chinese consumers to make all of their daily purchases, and this new JV with ZestFinance is another big step in our development."
Internet finance has suffered from weak consumer data making credit risk difficult to determine. This fact has plagued multiple online finance platforms.  JD has a growing portfolio of financial services that include both crowdfunding and direct lending.  JD is one of the Asian internet giants that have expanded their brand, and services, into consumer finance.

JD states that the ZestFinance big data credit-decisioning platform is highly applicable to the Chinese market because it accurately underwrites people without credit history. Instead of analyzing the limited number of credit variables most traditional underwriting methods consider, ZestFinance analyzes tens of thousands of data points to effectively evaluate creditworthiness. ZestFinance's big data approach considers information that traditional underwriting methods do not – such as anonymized consumers' online shopping habits. It is this technology they hope will enable lenders in China to effectively predict risk, which, in turn, will expand Chinese consumers' access to fair credit.
"At ZestFinance, our mission is to provide fair and transparent credit to everyone everywhere in the world," said Douglas Merrill, Founder and CEO of ZestFinance. "We're excited to work with JD.com to create powerful consumer credit evaluation in China. AsChina uses advanced data science to make credit decisions, its underwriting will likely leapfrog approaches used by most lenders in established markets, which are based on technology created decades ago."
The JV will provide credit risk evaluation services to additional companies in China but JD will be the very first customer.

Sponsored Links by DQ Promote