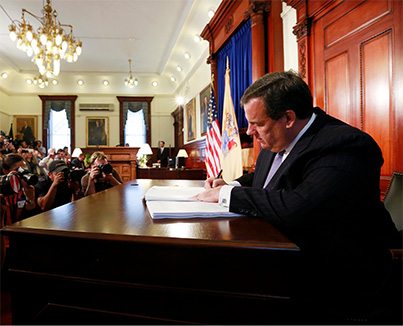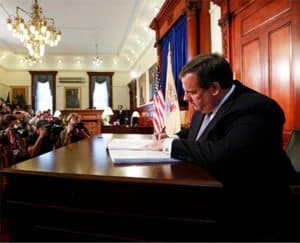 New Jersey recently presented a job creation and economic growth package and as part of the legislative push the state may legalized investment crowdfunding.  The New Jersey bill allows entrepreneurs based in the state to seek up to $1 million in private capital.  Non accreds may invest up to $5000 in crowdfunded offers. The bill easily passed the Assembly 75-0.  Now it is left to Governor Chris Christie to sign the bill into law.
1 of my jobs bills to allow #crowdfunding in #NJ just received final legislative approval; heads to @GovChristie http://t.co/J7xNgRyvh2

— Senator Joe Kyrillos (@joekyrillos) July 23, 2015
The legislation was originally introduced in 2013 by Senator Joe Kyrillos to allow New Jersey residents to invest in New Jersey-based companies, startups, innovators and entrepreneurs received final legislative approval.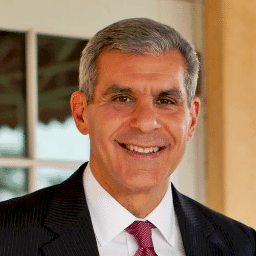 "At a time when conventional sources of financing are scarce, this legislation will help New Jersey's innovators seek private capital from the investing public to develop their products or services right here in our state," Kyrillos said. "Crowdfunding will level the playing field for future employers, giving those without access to Wall Street a chance to gain startup capital quickly and grow their business with the support of the community."
Kyrillos noted that more than 90 percent of New Jersey employers are small businesses owners, employing more than half of the state's private-sector workforce.
"We grow jobs and opportunities for people here by eliminating opportunity-crushing regulations and antiquated roadblocks to ingenuity and economic revitalization principally driven by our state's small businesses," Kyrillos said. "Entrepreneurs in New Jersey deserve the same opportunities to thrive as innovators in other states who have turned several thousand dollars in online crowdfunding investments into thriving businesses with dozens of employees."
Kyrillos noted that retail investors have always been able to put capital at risk in public markets. If his bill passes, New Jersey retail investors will be able to risk capital in private companies as well.

Sponsored Links by DQ Promote