There's no stopping these jackets! Last month, Chicago brand Baubax hit Kickstarter with a mission to raise only $100,000 for its Travel Jacket. Within only a few days, the project surpassed its initial goal and quickly reached over a million dollars. Now, half way through the initiative, the jackets have surpassed over $4 million thanks to 21,500 backers. This makes Travel Jacket the most funded clothing project on the platform.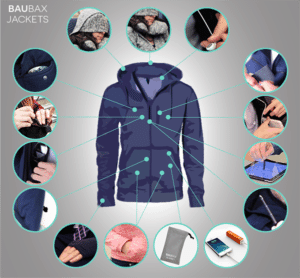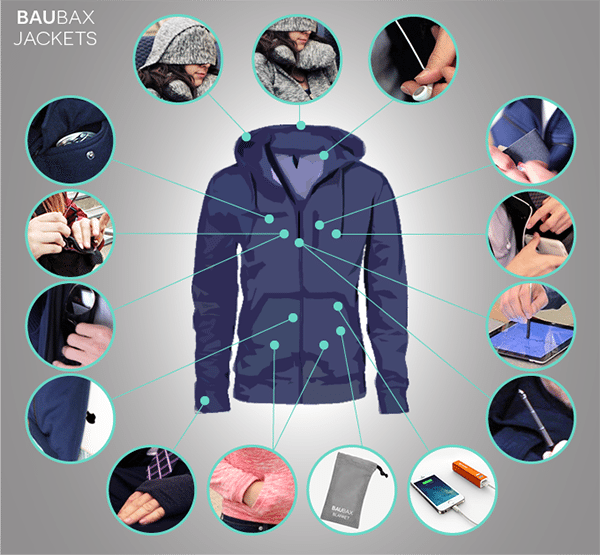 The Travel Jacket is equipped with 15 features that makes it perfect for those traveling. Such features include a neck pillow, earphone holders, eye mask, phone pocket, drink pocket, microfiber cloth, sunglass pockets, blanket pockets, and even a portable charger pocket. The jacket is available in four styles for both men and women, which are Sweatshirt, Windbreaker, Bomber, and Blazer.
Yoganshi Shah, founder and chief design officer of Baubax, stated:
"No one wants to carry a big goofy neck pillow when traveling. All of our jackets include an inflatable pillow that's discreetly tucked away in the hood. This innovative valve technology allows the consumer to inflate a neck pillow in just two seconds and deflate with a simple press of a button."
During a recent update, Shah, alongside co-founder and CEO of Baubax Hiral Sanghavi, announced that they are listening to backers and are adding a few things to the Jackets:
"We've read all your comments and decided to incorporate some changes and do polls to understand what you need. This is the beauty of crowdsourcing and we are so happy that we all are exploiting this platform to its potential!

"A special thanks to all of you who have encouraged us to stick to the basics and deliver the highest quality products, rather than focusing on extra features. We appreciate your support and we are glad to be on the same page with you. We promise you that the quality of our products will never be compromised.

"The half scoop touch screen friendly gloves are an add-on to cover the top half of your hands. We are not taking away the original feature of built-in half gloves that cover your palms. A few of our backers had suggested this idea of full length gloves because the flights do get cold at 35,000+ feet. The half scoop gloves would help cover your hands fully, keep your fingers warm and free, and allow you to work on your devices. So, we are retaining this feature as a stretch goal for $5mn. When you are not using the half scoop gloves, you can keep them in one of the pockets.

"[For the zipper] we agree that the bottle opener is just a good to have feature and not absolutely necessary, and definitely not worth taking the risk at the airport security. We heard you, and we have removed this feature."
Unfortunately, the duo admits that some ideas just cannot be incorporated into the design of the jacket:
"We've said this several times in the comments section – we just cannot afford to offer the pocket blanket as a stretch goal. We would be compromising on the quality of the jacket if we were to offer the blanket as a stretch goal. Our Pocket Blanket is engineered to be folded in to a pocket of 6 inches. The blanket would have an ideal temperature range for flight travels. We promise it will be worth it and something that you've never seen before. FYI – When unfolded, the length of the blanket will be 40 x 60 inches, which is perfect to cover your body when you are in a seating position on planes.
The co-founders also stated that they are doing a poll for SOME of the jackets colors:

Potential backers have until September 3rd to back the project.

Have a crowdfunding offering you'd like to share? Submit an offering for consideration using our Submit a Tip form and we may share it on our site!

Sponsored Links by DQ Promote