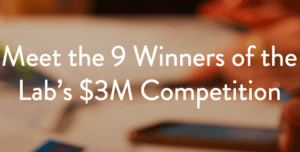 Financial Solutions Lab is a five-year program aimed at harnessing and developing top FinTech companies to create products that tackle Americans' most pressing financial issues. In July, the lab chose 9 startups to join year one of its five-year program. Each of the companies received $250,000 in capital and will continue to receive national partnership opportunities, mentorship from industry experts and consumer insights from its founding partner, the Center for Financial Services.
According to FinLab representatives, the $30 million program will identify, test and expand the availability of promising innovations that help Americans increase savings, improve credit, and build assets. FinLab is launching a series of competitions to identify solutions to specific consumer financial challenges. It will provide incentives for entrepreneurs, businesses, and nonprofits to enhance financial products and services that address these challenges and improve consumers' financial health.
Earlier this summer, FinLab winners were announced in Austin, Texas at the CFSI / American Bankers Emerge Conference. The 9 startups are listed below.
---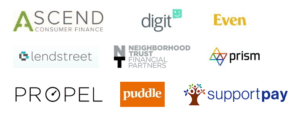 Ascend Consumer Finance (San Francisco, CA) – Low credit score borrowers face a tough choice: lock into a high-interest loan, or forgo credit in the hopes of improving credit and securing a better rate in the future. Ascend provides improving-credit borrowers with a third choice: get a fair rate today with a path to dramatically lower rates by demonstrating financial responsibility. By incenting reduced consumer debt, increased savings, and limited credit card spending, Ascend reduces risk on current loans and rewards the borrower by lowering interest payments.
Digit (San Francisco, CA) – Digit is an automated savings tool with a SMS-based UI that uses an intelligent algorithm to identify small amounts of money that can be moved into a Digit account based on spending and income. The company supports over 2,500 banks and credit unions and all Digit accounts are FDIC insured.
Even (Oakland, CA) – Even turns the inconsistent income of hourly and part-time workers into a steady salary. It does this by saving money from above average paychecks (in a separate savings account), and boosting low paychecks automatically. Even provides more consistent cash flow, helping to prevent account overdrafts and avoiding the need to access short term credit.
LendStreet (Sunnyvale, CA) – LendStreet is a marketplace-lending platform which helps borrowers restructure and refinance debt, and allows investors to buy the loan at a discount. Borrowers get debt relief and payments that are structured around their lifestyle. LendStreet helps consumers get a fresh start to their financial lives.
PayGoal by Neighborhood Trust (New York, NY) – PayGoal is a workplace tool that enables financially underserved workers to improve their financial health. It is a simple, guided mobile experience that leverages behavioral economics principles to engage users and improve the allocation of wages toward their principal financial goals.
Prism (Bellevue, WA) – Prism is a comprehensive bill payment and presentation app that helps the millions of millennials across the country better manage their personal finances and pay their bills from their smartphones. It's easy to forget that the majority of young Americans are living paycheck to paycheck, and many of their financial decisions are being made taking only the next week or even just the next few days into consideration. Prism helps add transparency to bills making presentation and payment easy, free, and intuitive.
Propel (Brooklyn, NY) – Propel's technology simplifies the food stamp application process by streamlining the initial enrollment form, eliminating the hassle of submitting paper documents, and providing a phone-friendly interface. 15 million Americans qualify for food stamps but aren't enrolled, and the complexity of the enrollment process is a major barrier to accessing this critical lifeline. Propel makes the food stamp program more friendly.
Puddle (San Francisco, CA) – Puddle is a platform for reputation-based borrowing, currently available to anyone in the US with a debit card. Users gain access to a shared pool of capital by contributing funds and building reputation with others they trust. Based on the Accumulated Savings and Credit Association model that has worked offline all over the world, Puddle is bringing a successful and impactful solution online.
SupportPay (Santa Clara, CA) – SupportPay is an automated child support payment platform that enables parents to share child expenses and exchange child support/alimony directly with each other. SupportPay transforms the complex, time-consuming & conflict-ridden child support process while increasing the likelihood parents will exchange child support.