Australian listed crowdfunding platform CoAssets Limited ("CoAssets" or the "Company") (NSX code: CAX), confirmed on Monday that it has successfully crowdfunded the platform's first Singapore-based real estate project.  Launched on July 1st, Mountbatten Lights, a boutique cluster bungalow development, managed to raise S$500,000 from more than forty crowdfunders.
This is considered the first Singapore-based project funded through CoAssets, building on the projects located in Malaysia, Thailand, Philippines, Australia, UK, and China that have already been funded by the CoAssets crowd funding platform, clearly marking CoAssets as South East Asia's leading crowdfunding platform.
Getty Goh, Co-Founder and Chief Executive Officer of CoAssets stated:
"We are very pleased with the outcome for several reasons.  First it is pleasing to see a project funded in the Company's home base, after our success in funding projects across South East Asia. It is pleasing that we are now also seeing a range of risk and return options for our crowdfunding participants.

With the Singapore property market being deemed to be more secure, third party valuation reports gave this first project a total valuation of S$30 million, with the cost less than S$14 million, giving it very conservative ratios.  As such our Crowd Funding participants were offered financing returns of around 6%, reflecting the risk profile, whereas properties in other locations and risk profiles may offer returns above 10%.

"With the successful funding of the project, it is great to see that we have a sizeable number of crowd funding participants who prefer greater security over higher returns."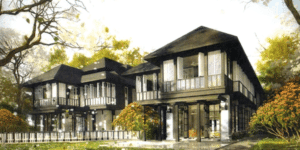 Mountbatten Lights is developed by Chia Quee Khee, a retired lawyer turned private developer.  The project comprises 4 detached houses located in Singapore's prime East Coast vicinity. The development is currently in construction and the expected completion is by early 2016.  Commenting on his first crowdfunding experience,
Chia noted:
"I used CoAssets to understand how the crowdfunding platform works and to see if crowdfunding could be used for my other projects.  The crowdfunding process is easy to do, and provides a quick avenue to raise funds. I can recommend it to others."
Dr Seh Huan Kiat, Co-Founder and Chief Technical Officer of CoAssets, added:
"Having been in operations for two years, we are also pleased to note that more of our crowdfunders are receiving payouts.  Specifically Lai Thai, a Thailand development, just issued a second payout to funders.  In addition, a developer from the United Kingdom has started the redemption process and is returning funders their principal after successfully completing their project.

"While CoAssets is a matching site, and ultimately developers are responsible for performance, we actually keep a very close eye on the progress.  So far, all our developers have been prompt in their payment and we hope to continue giving our users a pleasant crowdfunding experience."
Have a crowdfunding offering you'd like to share? Submit an offering for consideration using our Submit a Tip form and we may share it on our site!