Direct lending platform Bond Street has signed up Tumblr's former Creative Director to join their executive bench. Peter Vidani is now the Vice President of Product effective immediately.  The position is new for Bond Street and responsibilities include developing products and tools to aid Bond Street's mission of providing access to capital for small business owners. Vidani was employee number 5 at Tumblr.  During his tenure at the micro-blogging site, Vidani led marketing, branding and communications. Today Tumblr, which was acquired by Yahoo, hosts over 250 million blogs.  Vidani was described in an interview in the Daily Dot as "the company's guru of design".
David Haber, CEO and co-founder of Bond Street said the marketplace lending platform was "thrilled" to add Vidani to its team.
"Peter's addition underscores our commitment to building delightful products that will transform the way businesses grow in America," said Haber.
Vidani echoed Haber's enthusiasm and said he embraced the mission of assisting small business.
"I look forward to working with David and the rest of the team to create products that allow our customers to bring their ideas and projects to life."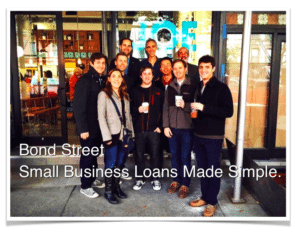 While social media and finance may seem like entirely different internet operations, online finance is being led by a group of innovative entrepreneurs seeking to bring a more user-friendly, personal touch for both those seeking capital and those that invest.  The traditional banking industry is notorious for its poor customer experience.
Earlier this year Bond Street raised a $110 million Series A round of equity and debt financing led by Spark Capital, Jefferies Inc. and individual investors, which was announced in June.  Bond Street provides debt financing from $50,000 to $500,000.