uBiome, the San Francisco-based company behind a self-sampling microbiome testing service, has been celebrated in two major national competitions, both focusing on technology and innovation. uBiome's CEO and co-founder, Jessica Richman, was announced overall winner of the IVY Innovator Awards presented by Cadillac, in San Francisco on September 30th.
"It's an honor to win the IVY Innovator Award, and to also know that uBiome is a finalist alongside three other worthy businesses in MedTech Innovator is the icing on the cake. Actually the credit should really go to a couple of groups of remarkable people," according to Richman. "One is our incredible uBiome team, without whom we wouldn't exist. They're talented, devoted, and just as eager as Zac and I are to change the world through microbiome testing. The other is our fabulous community of citizen scientists who send us their samples, enabling us to work together to help them explore their microbiomes. Many of them helped get the company off the ground in the first place by supporting our enormously successful crowd-funded launch."
uBiome is one of a shortlist of four finalists for the MedTech Innovator 2015 competition which will be awarded on the basis of a panel of judges' decision and audience votes at AdvaMed 2015 on Wednesday October 7th in San Diego.  Richman and her co-founder Dr. Zachary Apte founded uBiome in November 2012 with an Angellist crowdfunding campaign which raised over $350,000. Following an angel round, their startup was accepted into Y Combinator in Summer 2014. Almost immediately they raised a Series A from Andreesen Horowitz. Prior to founding uBiome, Richman worked for Google, McKinsey, Lehman Brothers, the Grameen Bank, and top-tier Silicon Valley venture firms. She attended Stanford University, studying economics and computer science, and Oxford University, where she studied on a fellowship after college graduation.
"The microbiome is the rich diversity and prodigious volume of bacteria that live in and on the human body. We have ten times as many microbial cells living in this balanced ecosystem than we do in the entire human body, and its weight amounts to between three and five pounds, enough to fill a soup can – an equivalent weight to the human brain. Bacteria in the gut play a supporting role in digestion and the synthesis of vitamins, however pathogenic bacteria are associated with a range of conditions such as autoimmune disorders, diabetes, heart conditions, Inflammatory Bowel Disease and skin conditions. There may even be bacterial connections with anxiety and depression," according to the release.  "uBiome uses DNA sequencing to identify the types and amounts of bacteria in an individual's sample, which may be collected from one of five sites – gut, mouth, nose, skin, or genitals. Users can freely explore their results online, comparing their own microbial makeup with others. The species of bacteria in an individual's microbiome have only recently become identifiable thanks to a $115 million project by the NIH Human Microbiome Project. uBiome builds on this pioneering work, enabling the cost of microbiome sequencing to be cut from millions of dollars ten years ago to just $89 today, making it accessible to all."
The IVY Innovator Awards, in their second year, recognize outstanding achievement in the fields of technology, film, and design. IVY is a collaborative community of 10,000 thought-leaders and innovators in New York City, Los Angeles, San Francisco, Washington D.C., Boston and Chicago dedicated to creating a better world through its belief that everyone has limitless potential. Its mission is to unlock potential through creative collaboration, camaraderie and inspiration.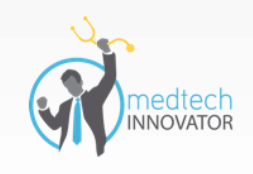 MedTech Innovator of 2015 is a competition and virtual accelerator designed to identify and mentor outstanding, innovative early-stage medical technology companies. Over the past two years, MedTech Innovator has produced five successful medtech innovation competitions and two innovation scholarships, with submissions from more than 700 early-stage medtech companies worldwide.  AdvaMed Accel and AdvaMed 2015 have partnered with MedTech Innovator to provide best-in-class start-ups access to a virtual accelerator and to support AdvaMed members developing innovative and transformational medical technologies. AdvaMed represents 80% of medtech firms in the U.S., producing nearly 90% of the health care technology purchased in the U.S. each year.

Sponsored Links by DQ Promote