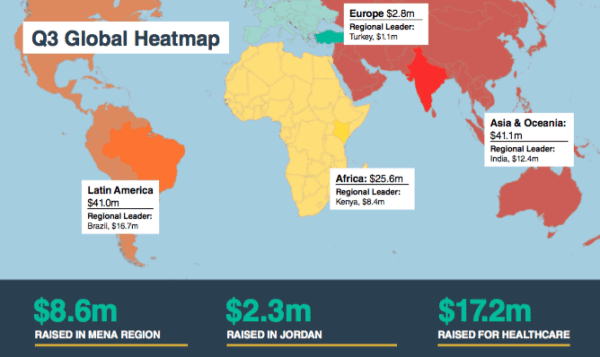 AlliedCrowds has published two new reports quantifying the growth of crowdfunding in the developing world. In Q3, AlliedCrowds saw $110 million raised on crowdfunding platforms across multiple countries. One of the challenges for crowdfunding platforms are payments. In countries with better established mobile payment services it is far easier to raise funds online.
AlliedCrowds features Ketto, the largest rewards-based crowdfunding platform in India that is raising $2 million per month now.
A few interesting bullets:
Latin America $41 million – Brazi is leader at $16.7 million
Africa $25.6 million – Kenya is leader at $8.4 million
$8.6 million raised in MENA – $2.3 million in Jordan alone
The second report published this month is the Diaspora Report. AlliedCrowds notes that immigrants can funnel money to projects back home far easier by accomplishing it online, bypassing formal channels. AllieadCrowds believes that if crowdfunding (investment too) can capture 10% of global remittance market the diaspora industry can grow to over $58 billion in the next years.  That's a lot.
Read both reports below.
---
[scribd id=285253849 key=key-rLkRWfsRg3hF45DltPTZ mode=scroll]

[scribd id=285255070 key=key-RBO89kImy2pVV22W8gB1 mode=scroll]

Sponsored Links by DQ Promote