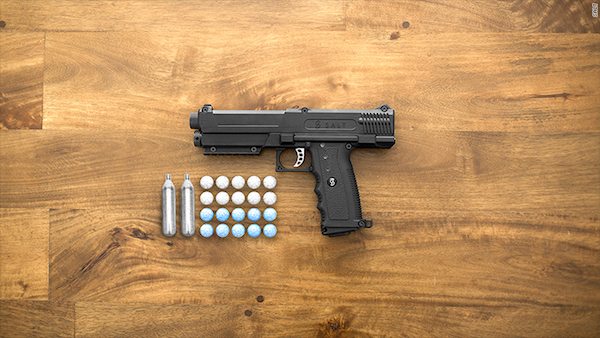 With gun control being such a controversial topic these days, it's no surprise that Indiegogo decided to pull the plug on the campaign for Salt Supply Company's self-titled alternative gun.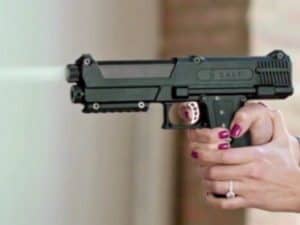 The weapon appeared on the platform this week and was described as a gun that doesn't take a life but saves a life." Instead of bullets, each of the SALT guns is loaded with pellets that contain a mixture of powdered chemicals including oleoresin capsicum, which is a ghost pepper extract that is used for pepper sprays.
These pellet explode on contact in a cloud that immediately incapacitates a would-be attacker. The rounds cause temporary debilitation, including blindness, lung constriction and intense contact irritation. These are done but doesn't not cause permanent harm. The company shared:
"This single redesign allow SALT to stop an intruder while also protecting the members of a household from the fatal accidents that all too often accompany a traditional firearm."
Engadget reported that Salt's CEO, Adam Kennedy noted that he keeps his gun inside the nightstand, (since it apparently doesn't exactly need to be locked up unless you have children). The gun is also considered "user friendly":
"The people who need protecting the most are often too scared to use the power of a traditional firearm because black powder is an incredibly loud and violent propellant. SALT was designed to be easy to use by replacing the bang of black powder with the power of compressed air. The result is a fear-free user experience, because the best weapon is the one that gets used."
He and his team added that they are not trying to take away people's right to bear arms by taking steps to release their creation to the public.
Each gun was being sold through the campaign for the price of $350. Those that live in New York, Massachusetts, Hawaii and California were excluded from Salt's sales due to shipping restrictions and chemical laws.
Unfortunately, within days of its launch, Indiegogo reportedly removed the campaign. Kennedy announced in a statement:
"Thank you to everyone that shared/liked/supported/believed in SALT and a better, safer gun that does not have to take a life in order to protect a life. We were so excited to see so many of you as passionate about a firearm alternatives as we are. In a debate as polarizing as gun safety, we have found that the courage needed to take a stand for a new way can be very hard. Andy and I were very disappointed to find that IndieGoGo removed the SALT project this morning because it straddled the traditional categories of safety device or weapon. Of course, anyone who purchased or donated to SALT through IndieGoGo will automatically receive a full refund.

"Given the excitement and interest around SALT, we are working as quickly as we can to find an alternative crowdfunding site that will support our mission to make the world a safer place. In the meantime, we would love to keep you up to date on SALT news and where you can place an order. Please enter your contact information below and we will notify you as soon as pre-orders are available again. We are excited about the future for SALT and the technology we will bring to the marketplace to help protect the ones we love."
Have a crowdfunding offering you'd like to share? Submit an offering for consideration using our Submit a Tip form and we may share it on our site!

Sponsored