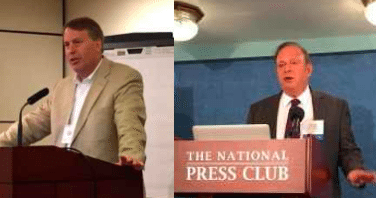 In the wake of final rules of Title III of the JOBS Act, Dr. Richard Swart and Sam Guzik on the rules that allow retail equity crowdfunding. The presentations is organized by NextGen Crowdfunding and is part of a broader online series initiative entitled: "Crowdfunding New Era". The webcasts require registration but are free to the public.
Swart is a well known academician and advocate of the potential of new forms of finance.  He recently joined NextGen Crowdfunding as Chief Strategy Officer. Swart is a Contributor to Crowdfund Insider. Guzik is a prominent securities attorney and is current Chair and President of the CfPA. He is a Senior Contributor to Crowdfund Insider and writes frequently on topics regarding securities regulations and politics.
Title III equity crowdfunding will allow all investors, regardless of income, to invest in small businesses seeking capital of $1 million or less.  The rules will become actionable in mid-2016.  The topics of the presentation include diverse subjects such as the impact on SMEs, concerns of fraud and how investors should view the new opportunities.
Aubrey Chernick, founder of NextGen commented on the objective of the series;
"This year the SEC announced two forms of equity crowdfunding that allow all investors, new and accredited, to fund startups and emerging businesses. Because equity crowdfunding is a completely new area for most investors and most small businesses, there will be a large number of questions from everyone. Our new online series brings together the leading experts in equity crowdfunding to answer these questions."
Sponsored Links by DQ Promote