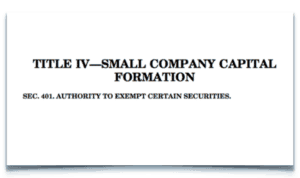 Title IV of the JOBS Act breathed new life into a securities exemption that no one utilized. Congress asked SEC to fix old Regulation A and they did so by removing the onerous and costly state Blue Sky Review requirement – the one issue that killed it before. Now commonly called Reg A+, and described as a mini-IPO type offer, some equity crowdfunding platforms are using Reg A+ with some success.  Reg A+ allows issuers to "Test the Waters" (TTW) first – prior to filing an offer with the SEC. No sense in asking people to invest if their is no interest – right?
Freeborn, a law firm, and VerifyInvestor, an accredited investor verification platform, have collaborated on an infographic that gives a high level over-view of Regulation A+. There are two different Tiers regarding Reg A+.  Tier I still has Blue Sky Review – so few companies are using it.  Tier II allows issuing companies to raise up to $50 million and we have seen several SME's use TTW with impressive results.  While it will take some time to see how impactful Reg A+ is in providing access to capital for smaller companies – it is a heck of lot better now since the SEC acted, and amended, old Regulation A.
Click on the infographic to enlarge.