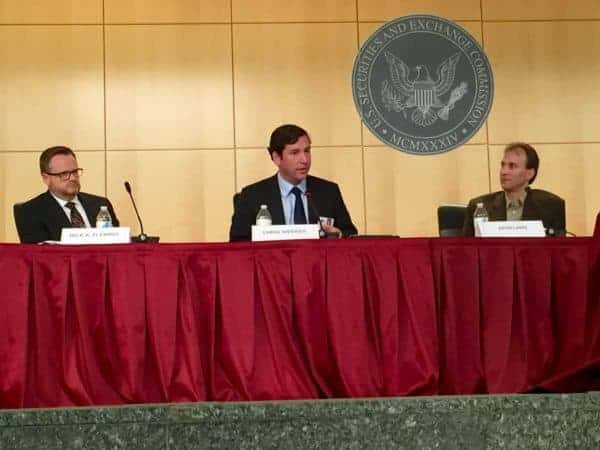 Cowen and Company, a publicly traded (NASDAQ:COWN) diversified financial services firm, is looking at the potential benefits of leveraging Regulation A+.  Title IV of the JOBS Act allowed the SEC to update old Reg A thus creating a securities exemption that has actually experienced some recent use.  Reg A+, as it is called, is divided into Tier 1 and Tier 2 offers. Tier 1 has seen a tepid response as it remains encumbered by state Blue Sky Review. Tier 2, an exemption that allows issuers to raise up to $50 million, just saw its first approved filing by the SEC as Elio Motors seeks to raise $25 million.
Cowen and Company, participating at the SEC Government-Business Forum on Small Business Capital Formation, delivered a presentation that outlined the exemptions they presently utilize. Managing Director Christoper Weekes indicated that Reg A+ is an exemption they are currently considering.  Weekes also gave some recommendations as to how to improve Reg A+ rules.
From his perspective, the following changes should be incorporated;
We propose that Tier 2 of Regulation A should apply to public micro cap companies, thereby enabling these companies to raise a sufficient amount of capital needed to grow their businesses in a cost effective manner.
We believe it may be appropriate to consider conditioning the availability of tier 2 on a micro cap company being current for the past two years in its reporting obligations in the Exchange Act
We propose that micro cap companies should be permitted to incorporate by reference their Exchange Act reports into their Offering Circular, thereby reducing the time and the cost of a Regulation A offering
We propose that foreign private issuers should be allowed to conduct Tier 2 Regulation A offerings
We propose that there be a safe-harbor from Section 12(a)(2) liability for research reports prepared by broker dealers on Regulation A issuers
We believe Regulation A should go further and preempt state blue-sky laws for re-sales of Regulation A securities as well
While I would not hold my breath on any changes soon, it is meaningful that an established banking firm like Cowen is considering Reg A+ – an exemption that allows non-accredited investors the option to invest in earlier stage companies.

The presentation is embedded below.

[scribd id=290851183 key=key-VFHfjNLX1XzShaJg3HM7 mode=scroll]

Sponsored Links by DQ Promote