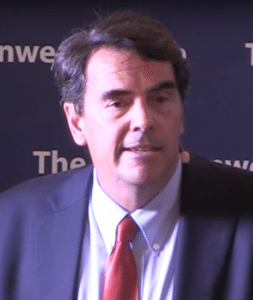 Prominent venture capitalist Tim Draper, founder of DFJ and Draper Associates, joined Crowdfunder CEO Chance Barnett earlier this month to chat about equity crowdfunding and what it means to the world of early stage / VC funding. Draper believes there is a chance that VCs may get "Napsterized" referring to the fabled file sharing platform that foreshadowed the advent of all music moving online (thus vaporizing most CDs / Vinyl).
Asked to predict the future of venture capital three to five years out, Draper responds. "If I could wave my magic wand, we would all be doing this with Bitcoin …"
Draper is of the belief that eventually government will be virtual and we will at some point in the future be able to choose the government that works for us.
Watch the interview below.
---
Sponsored Links by DQ Promote