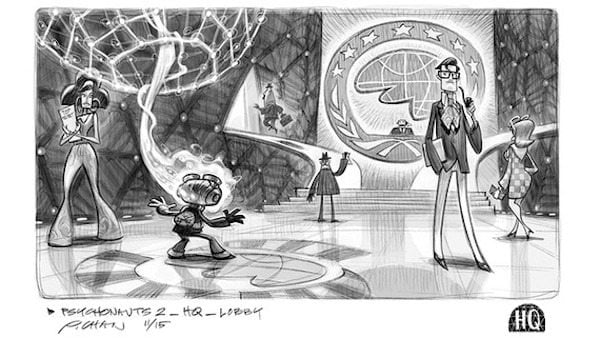 This week, video game developer Double Fine launched a crowdfunding campaign on Fig to raise $3.3 million for its new project, Psychonauts 2. 
Back in 2005, Tim Schafer and his team launched the original Psychonauts. Its description reads:
"The original game follows the story of a young psychic named Razputin in his quest to join an elite group of international psychic secret agents, the Psychonauts. He runs away from the circus and breaks into their secret training facility, Whispering Rock Psychic Summer Camp. As he begins his training by psychically delving inside the consciousnesses of his tutors and those around him, he realizes all is not as it seems, and soon embarks upon a psychic odyssey through a variety of levels set inside the minds of misfits, monsters, and madmen."
In the upcoming sequel, Raz realizes his dream and visits Psychonauts Headquarters. Inside, he discovered that everything isn't as perfect as he expected and quickly realizes the Psychonauts need him more than he needs them:
"Psychonauts 2 will feature a new hub world inside Psychonauts HQ. You'll access new mental worlds as Raz peeks inside the minds of a host of new characters who need his help to combat their inner demons and unravel their deep-seated emotional issues. Raz will hone his secret agent PSI-abilities—and learn new ones too—using them to solve mysteries and uncover evil plots."
Those looking to invest in the game will receive various rewards, including digital downloads, posters, name in credits, and art books. During his interview with Eurogamer, Schafer revealed why he turned to Fig for the game:
"With Fig people are actually going to be able to participate in the success of it. So if the game is a hit, they'll get royalties from it. That allows us to go bigger."
Giving a more in-depth description of the game, Schafer explained:
"The first game was about summer camp and Raz trying to be a psychonaut, the second game is Raz is now a psychonaut and he's going to Psychonaut Headquarters to see how they do it downtown. So he's going to be hanging out at the actual psychonaut's headquarters where they do international espionage and he's going to be meeting the actual people who run the psychonauts.

"Sasha and Milla are going to return, and Lili, and you're going to be seeing them in their natural environment; not in their summer camp clothes, but in their super secret spy headquarters. And from that hub you're going to go into another series of mental worlds and exploring the secrets of the history of the psychonauts organisation. Raz finds out that they're actually not as perfect as he imagined they were from the comic books he read all his life. And they actually have in some ways things that are very troubling that he's going to have to fix, and they in some ways need him more than he needs them. But to do that he's going to have to go into his own backstory, exploring a lot of things that were eluded to in the first game in terms of the curse that's been put on his family – to die in water – and where that curse came from and how that ties into the history of the psychonauts itself."
In regards to creating the sequel, Schafer added:
"I would say every single game I've ever made I have a bunch of ideas for a sequel to. That's for sure. But I also have a bunch of ideas for new stuff, so I don't think it's going to be one or the other. I think it's going to be an intersection of opportunities and inspirations. Like I felt really inspired to do a Psychonauts sequel right now – and we're kind of creating our own opportunity to do it. So in the future it really depends on what we get inspired to do and what opportunities we can make happen."
Since its launch, the campaign has secured over $1 million from 7,800 backers. It is set to close on January 7th.
________________________________________________
Have a crowdfunding offering you'd like to share? Submit an offering for consideration using our Submit a Tip form and we may share it on our site!