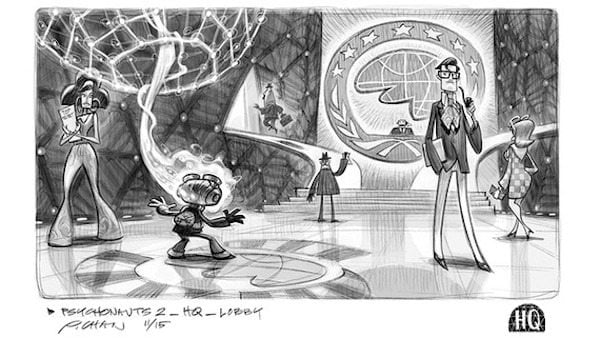 Just four days after launching a crowdfunding campaign on Fig for its highly anticipated video game, Psychonauts 2, Double Fine has successfully secured nearly $2 million from over 12,000 backers. The company turned to the funding method to raise $3.3 million towards the project.
The description of the new game reads:
"The original game follows the story of a young psychic named Razputin in his quest to join an elite group of international psychic secret agents, the Psychonauts. He runs away from the circus and breaks into their secret training facility, Whispering Rock Psychic Summer Camp. As he begins his training by psychically delving inside the consciousnesses of his tutors and those around him, he realizes all is not as it seems, and soon embarks upon a psychic odyssey through a variety of levels set inside the minds of misfits, monsters, and madmen."
Double Fine also revealed the story of the game:
"Psychonauts 2 will feature a new hub world inside Psychonauts HQ. You'll access new mental worlds as Raz peeks inside the minds of a host of new characters who need his help to combat their inner demons and unravel their deep-seated emotional issues. Raz will hone his secret agent PSI-abilities—and learn new ones too—using them to solve mysteries and uncover evil plots."
During his recent interview with Gameradar at the PlayStation Experience event in San Francisco this weekend, Double Fine boss and creative director, Tim Schafer, stated why he decided to use the crowdfunding method to obtain the funds:
"We picked 3.3 [million dollars] because it's a callback to our awesome Broken Age Kickstarter that we did. Like we did with Broken Age, we're also going to pitch in a whole bunch of our own money. So, we're going to put a chunk of our money in, and we're bringing in an external partner to bring in another chunk. Each one of those, probably on its own, could not achieve the budget, which together make a budget that's really in the same ballpark as the first game."
Shafer also explained to the media that the $3.3 million is considered a calculated component of the total budget, which will see its "external partner" announced at a later stage. Double Fine's own contributions come from the studio's successes in selling games like Brutal Legend and the original Psychonauts on PC.
In regards to any potential changes in the game that could cause a delivery delay to backers, Schafer added:
"I would love for it to be a repetition of all the things they didn't like, because it actually turned out great. Broken Age, I'm really happy with the game and how it turned out, and we got a lot of crap for putting our own money into making the game twice as big as the one that we promised. So, I will stand by that. We've done two crowdfunded titles, Massive Chalice and Broken Age. We shipped them both and people have them and they're great games. I feel like that gives us credibility to do this game."
Have a crowdfunding offering you'd like to share? Submit an offering for consideration using our Submit a Tip form and we may share it on our site!

Sponsored Links by DQ Promote