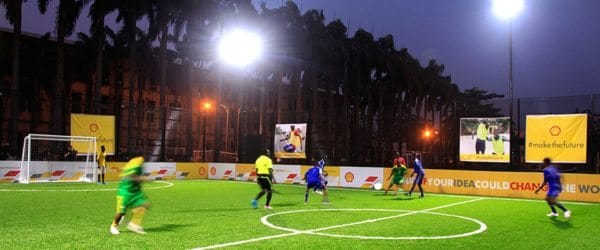 Pavegen has partnered with Shell and Akon in its biggest project yet: Africa's first people & solar powered football pitch (soccer field for the yanks). The field incorporated 96 energy tiles beneath the turf. The switch was flipped this past Friday representing another successful implementation of the Pavegen product. Founded in 2009, Pavegen creates flooring that harnesses the energy of footsteps. The technology has been installed in over 100 projects in more than 30 countries, in train stations, shopping centres, airports and public spaces. The company has captured significant traction and has been helped by "the  Woz" and lists former Apple exec Jeff Martin as an advisor.
#SLWAlumni @Pavegen have teamed up with @Shell and music superstar @Akon to help #makethefuture in Lagos! https://t.co/pUzKnQTDH8

— Shell LiveWIRE UK (@shelllivewireuk) December 14, 2015
Pavegen, headquartered in London, ran a super successful crowdfunding campaign on Crowdcube earlier this year. The funding round saw 1555 kick in over £2 million for ownership in the company. The initial funding target of £750,000 was pegged in just 59 hours. Pavegen ran a Kickstarter campaign back in 2012 which failed. It appears ownership trumped perks in this case.  
We powered a soccer pitch with @Shell_Nigeria + empowered a community through footsteps @Pavegen it's going global! pic.twitter.com/6AoF8Eu44z

— Laurence KC (@LaurenceKC) December 13, 2015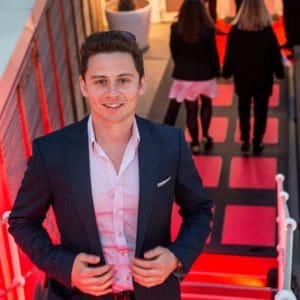 Founded by Laurence Kembell-Cook, the company was started out of his flat in Brixton, London. A design engineer by training, he received a 1st Class honors from Loughborough University, where he pioneered the first Pavegen technology prototypes. Future projects in the queue includes the first push into the US. Collaborating with the Department of Transportation, Pavegen will be working on a permanent installation near Dupont Circle in Washington, DC.
It will be interesting to see how early investors fare in this growing company. All indicators point to a business that has captured solid early success which should be passed onto the owners.