Fintech Innovators, a collaboration between fintech investment firm, H2 Ventures and KPMG Fintech, today announced the world's leading fintech innovators, publishing its Fintech 100 list.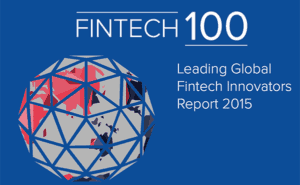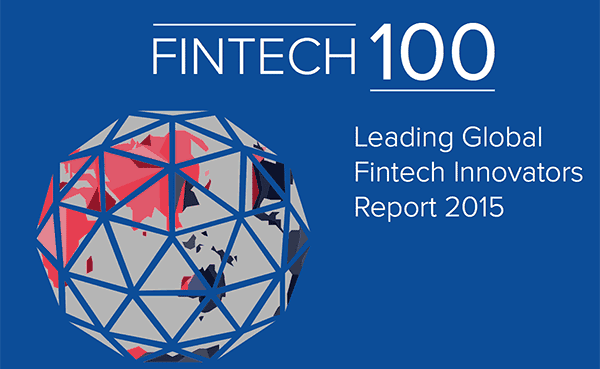 The Fintech 100 includes the leading 50 established fintech companies across the globe, and the most intriguing 50 'Emerging Stars'– exciting new fintechs with bold, disruptive and potentially game-changing ideas. These companies are using technology to the best advantage, driving disruption within the financial services industry, as well as enabling incumbent financial institutions to capitalise on new technology – to deliver an enhanced customer experience, launch new products and services to generate growth, allow them to better manage risks and to improve their operating efficiency.
Featuring on the 50 Established Innovators list are UK peer-to-peer lending platform Funding Circle (5th position), new digital Atom Bank (8th), iZettle (27th) a mobile payments company, eToro (34), a trading marketplace, Nutmeg (42), the online investment service and TransferWise (46) a peer-to-peer money transfer service.
Twelve fintech startups from the UK's fast growing fintech ecosystem feature on the 50 Emerging Stars list the most of any country.  The full list is Bankable, Ebury, Elliptic, GoCardless, GoHenry, Osper, Property Partner, Revolut, Salary Finance, SyndicateRoom, The Currency Cloud and Yoyo Wallet.
The rise of Chinese fintechs is a standout this year, with Shanghai-based ZhongAn taking the top spot in the 50 EstablishedInnovators list, and Qufengi fourth. Last year WeCash was the only representative from China to appear on the list. This year there are sevenChinese companies in the Fintech 100, reflecting increased venture capital levels and interest in China's fintech sector. The UKhas six firms in total in the Established List.
Globally, fintech financing has jumped six-fold over the past three years with over US$20 billion estimated to be reached in 2015, a 66% increase on 2014 (US$12 billion). The Fintech 100 includes 40 companies from The Americas (40%), 20 companies from the EMEA 20%), 18 companies from the UK (18%), 22 companies from Asia-Pacific region 22%), including 10 from Australia and NZ (10%).
Warren Mead, Global co-lead of KPMG's Fintech practice, stated:
"The UK is clearly a leading centre for fintech but with the rise of Chinese firms that position is not guaranteed.  The good news is the UK is currently home to more emerging fintech companies on the list than anywhere else. In a fast moving sector, it will be interesting to track how many breakout over the next 12 months.

"The speed and energy with which fintech innovation is impacting financial services is gathering global momentum on many measures.  This year's report underscores the international nature of fintech, with the broad geographic diversity of the fintech companies featured. It is the Fintech 100 companies that are pushing the frontier of new products, services, technology and business models in financial services. Those within the financial services sector who ignore the innovations of the Fintech 100 cohort do so at their peril." 
Toby Heap, founding partner at H2 Ventures, commented:
"In an industry that will soon be irrevocably changed by the disruptive effect of innovation, the companies doing fintech best are those most likely to succeed. Already, some of the world's major financial centres are equally becoming known as centres for fintech innovation: London and New York, and more recently Sydney.

"This year's Fintech 100 highlights the truly global nature of fintech innovation,with startups from 20 countries on the list. Many of these companies have an X-factor that has captured our attention – exciting new fintechs with bold,disruptive and potentially game-changing ideas."
Key highlights from the Fintech 100 report include:
Funding boom: The Fintech 100 companies have collectively raised in excess of US$10 billion.
Fintech is now truly a global sector: The list is comprised of 40 

US companies, 20 from EMEA, 18 from the UK and 22 from ASPAC.
China fintech leads the world: Zhong An, a Chinese company, tops this year's list, and there are 7 Chinese fintech companies on the list.
Australia is punching above its weight: Australia's Society One and 

Prospa appear in the top 50 Established fintechs; and there are seven 

Australian companies in the Emerging Stars list.
Payments is most at risk of disruption: Fintech growth in payments, 

currencies and transactions sees this segment now representing 25% of the 

Fintech 100, a substantial uplift on last year.
Insurance finds its fintech footing: The top two companies on 

the list are insurance fintechs (with 7 overall, compared to none last year).
Shift from disruptors to enablers: There are 25 'enablers' 

(i.e. service providers to financial institutions) on the list this year, 

compared to 7 last year.
The Top 10 companies in the Fintech 100 for 2015 are:
This year ten fintech companies from the emerging list will be invited to attend a KPMG & Matchi Fintech Summit in London on February 10-11th to pitch their ideas to some of the world's leading financial institutions, venture capital funds and investors. They will also receive professional services support from KPMG, plus membership and discounted deal-success rates with Matchi, the online fintech match-making platform. The ten companies will be announced in advance of the Summit. The 'Fintech 100' was selected following extensive global research and analysis based on data relating to five factors:
Total capital raised

Rate of capital raising

Geographic & sector diversity

Consumer & marketplace traction

X-factor: degree of product, service and business 

model innovation (a subjective measure that is applied only with respect to 

companies appearing on the 50 Emerging Stars list)
Check out the list below.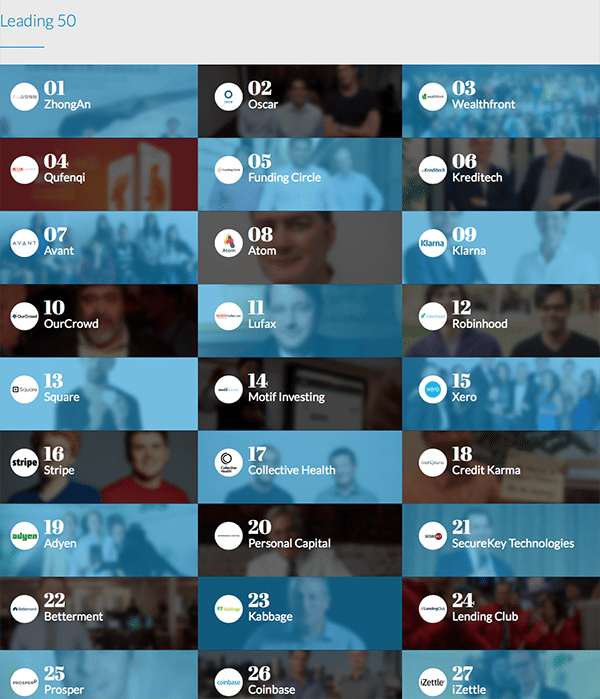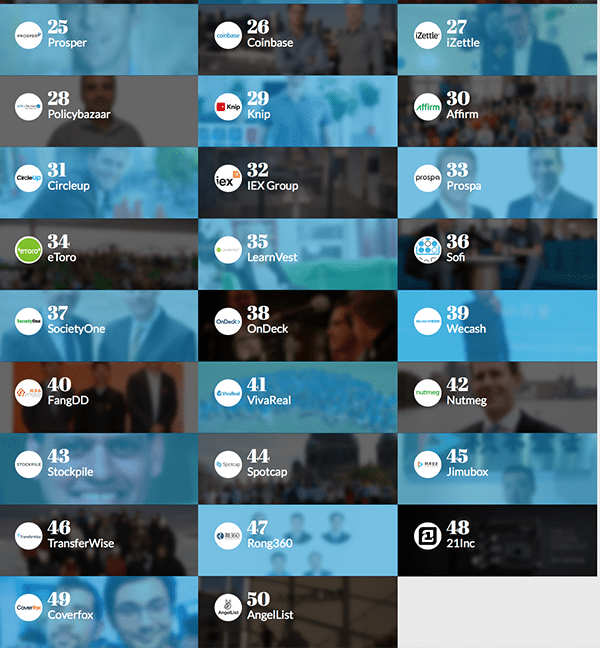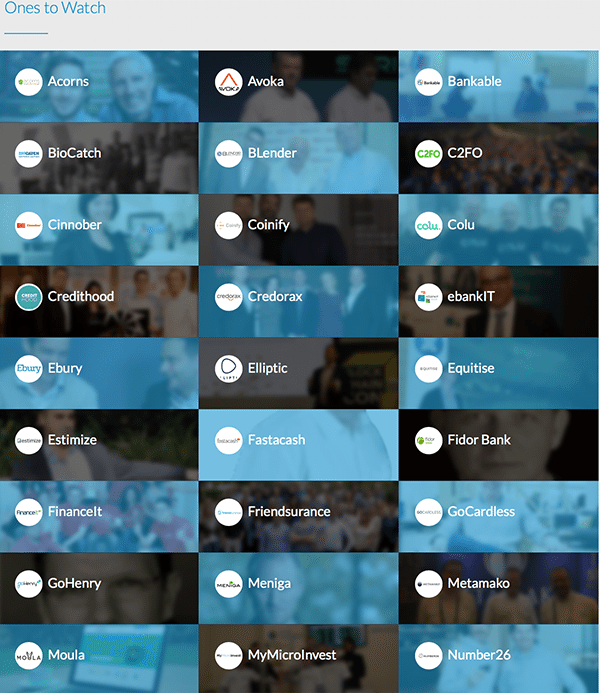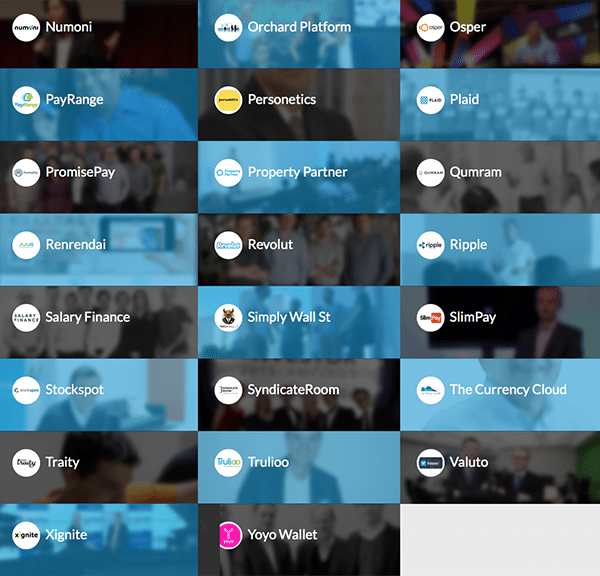 For more, check out the report.

[scribd id=293259668 key=key-R0CMMMkpEdnPdcw8kwKP mode=scroll]

Sponsored