These Innovative Entrepreneurs Beg to Differ
Two weeks ago, I held a mentoring session for five brilliant startup teams led by female founders. The teams were busy preparing their pitches for the third CrowdfundHerLive event organized by Woomentum, an ecosystem and crowdfunding platform for women-led startups in Singapore and in the region.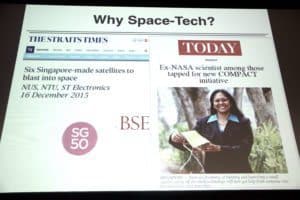 As I looked around the room, I suddenly realized that 6 out of us 9 women present were engineers. There has been much talk lately about the scarcity of women in STEM fields, and only 5% of tech startups in Singapore are founded by women. In this context, the very act of bringing together this group of female founders, who also happened to be skilled IT, chemical, mechanical and civil engineers, represented a real step forward. As I listened to these passionate and determined women pitching their innovative businesses– from edutainment apps to space technology startups – Woomentum's mission felt more vital than ever.
For this mentoring session, I had also invited Pranoti Nagarkar, a bright mechanical engineer who recently raised 11 million in series B to grow her startup, Zimplistic. Thanks to Pranoti's wealth of experience and her generosity in sharing her knowledge, she was able to provide her fellow entrepreneurs with invaluable feedback on their pitches – from structuring and messaging to number crunching. By the end of that session, all the participants had a polished pitch, and more importantly, an increased sense of confidence in themselves and in their business. They were ready.
Fast-forward to the day itself: 140 people gathered at Google Asia Pacific headquarters to kick off the third installment of CrowdfundHerLive. On the 10th of December, the 5 teams pitched their businesses in front of a panel of experts, as well as an enthusiastic crowd. Our mentor panel, composed of angel investors and successful tech entrepreneurs like Erwan Mace and Sanjna Parasrampuria, gave insightful, detailed feedback on each pitch, and even facilitated introductions to key people in their network. But the audience also played a big role that night. Inspired by the participants' passionate pitches, they pledged money in exchange for rewards – essentially, it was the equivalent of 'offline' crowdfunding. CrowdfundherLive enabled these five women-led startups to not only raise funds, but to gain exposure and market validation for their business.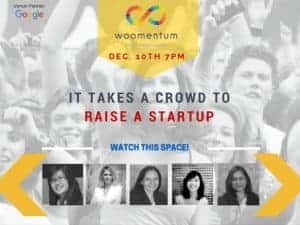 The energy from the participants and the crowd that night was fantastic: there was a strong sense of community, learning, and innovation, and that has always been our goal for CrowdfundHerLive. Beyond crowdfunding, we wanted to leverage a community of mentors, entrepreneurs and experts so we could create a supportive ecosystem for women-led startups. With this in mind, Woomentum plans on supporting the participants well beyond this one event. All the startups will be running online campaigns on Woomentum.Fund, a recently launched crowdfunding platform designed specifically for women entrepreneurs.
We were able to see audience support for all five startups blossom in front of our eyes. Science lovers got excited about Bhattacharya Space startup, and pledged funds in exchange for space tech workshops; while foodies flocked to BonAppetour, an "Airbnb"-type platform that provides travelers with curated dining experiences. TopoTogo, a travel app and guidebook designed for families, caught the attention of all the parents in the room. Yo!CanCan's homecare services platform resonated with everyone who has ever struggled to find a plumber or electrician. And finally, many audience members were curious to know more about Whymoolah's Collective Action platform, which connects ethical consumers with socially conscious enterprises.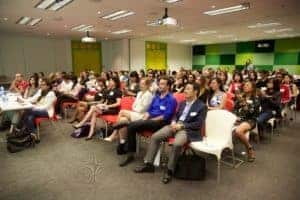 This ongoing support for female founders is crucial, and I received proof of this when a young woman came up to speak with me during the event. She worked in the shipping industry, but she wanted to set up an ecosystem in Singapore that supports young girls who code. When I asked her why she felt there was a need for such an initiative, she replied: "Confidence is the biggest problem for us girls. I grew up in China, and I went to one of the best schools in my city – but teachers always made us feel that boys were smarter. No matter how good my grades were, I always felt I wasn't good enough. Today I still feel the same. So I want to change that and I know many girls feel the same way when it comes to coding."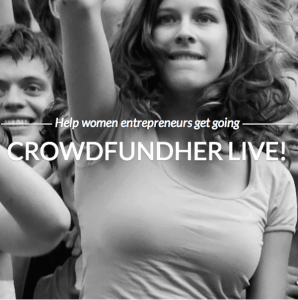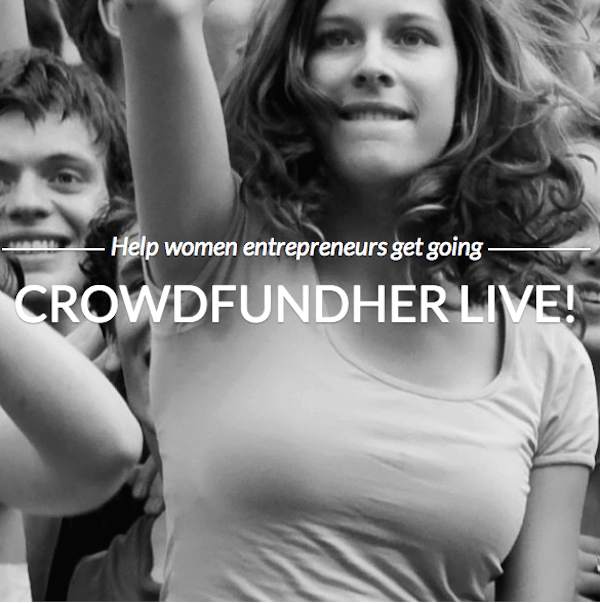 The issue of confidence, whether it's in the tech or business world, is one that I have become very much aware of while building Woomentum. If we really want to increase the number of female-founded startups in Singapore and in the region, we first need to build an ecosystem that will nurture them and help them succeed.
There is a reason why so many female engineers pitched during the CrowdFundHerLive event on December 10th: it's because we looked for them, welcomed them, and made sure they got the spotlight. We certainly plan to keep searching for our tech gazelles and to celebrate their success for many years to come.
---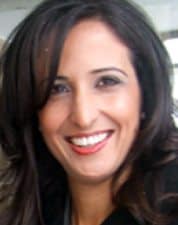 Mouna Aouri Langendorf is the founder and CEO of Woomentum, a social entrerprise based in Singapore. Born and raised in Tunisia, the Jewel ofNorth Africa and the leading liberal country in the Arab world, she graduated and started her career as a Bridge engineer in Tunis. At the age of 25, the Japanese government awarded Mouna a scholarship to pursue her Masters in Urban Engineering at Ibaraki University. This begun a wonderful seven-year adventure in Japan, which has become very close to her heart. During this time she completed her Masters and started work in Tokyo for a renowned Japanese engineering firm, eventually becoming the Regional Manager of Advitam Group, a daughter company of the giant French Vinci Group!Relocating to Singapore with her husband in 2011, Mouna through that steep road of rebuilding her network from scratch has taught her good lessons about herself, and about women and their challenges. She felt particularly interested in the women entrepreneurship space and asked the question 'What do women need to get going?'In January 2014, Woomentum and crowd funding was the answer. Woomentum is a social enterprise that helps women get going with their ideas while gaining momentum in these times where more tools are available to them!

Have a crowdfunding offering you'd like to share? Submit an offering for consideration using our Submit a Tip form and we may share it on our site!

Sponsored Links by DQ Promote