Last week, marketplace lending platform Prosper announced the winners of the #MyProsperStory contest. This was an opportunity for borrowers to have their loan paid in full free of charge.
The contest was simple: Create a short video (3 minutes max) and tell your story. Email it off to Prosper and they will review. First prize is a loan paid in full up to a max of $35,000. There are two additional prizes at $5000 and $2500 which isn't so bad.
Prosper declared in a recent blog post:
"We were thrilled to receive hundreds of inspiring, creative, heartfelt and humorous videos from our community! Every story was unique but there was one prevailing theme – money doesn't have to control you; you can take control of your finances. We loved hearing positive stories from our borrowers and we want to help you accomplish your financial goals. So, we've decided to continue spotlighting our customers! You can connect with us on Facebook to learn more about future #MyProsperStory campaigns in the new year. A big thank you to everyone who shared and voted for a #MyProsperStory video."
Check out the list of winner below.
Grand Prize Winner: Life After Brain Aneurysm: Mario's Mario's #MyProsperStory is a reminder that you can never plan for all of life's events
"Mario came to America in pursuit of the American dream. For 30 years he worked as a maintenance worker, saving money alongway to send his three children to college. He was in control of his finances. Then in 2013, Mario began feeling tired at work. One night he was rushed to the emergency room, where the doctors determined he had a brain aneurysm. With the diagnoses came the medical bills and Mario and his family struggled to keep up. Mario used a loan through Prosper to consolidate the debt and 'regain his life back.'"
First Place Prize Winner: The Money We Needed to Complete Our Adoption: Jackie and Andrew's #MyProsperStory is a story of love.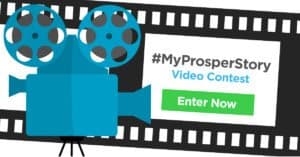 "When Jackie and Andrew met in college it was love at first sight. They got married and bought a house, and everything was going well. Then they learned that having a baby was going to be a more difficult and costly process then anticipated. The Metzger's refused to let roadblocks get in their way. So, they decided to explore adoption and Jackie took a loan through Prosper to help fund their adoption journey. Just 3 short weeks after applying for a loan through Prosper, Jackie and Andrew were able to welcome a child into their loving family."

Second Place Prize Winner: Nik Thanks Prosper.com for his Loan: Nik's #MyProsperStory (and spontaneous songs) will make you smile.

"Nik is a unique and hilarious storyteller. He made us laugh with his adorable dog Chester, his few words of Spanish, and his original, unscripted Prosper jingles. Unfortunately, Nik's struggle with credit card debt is neither unique nor funny. Nik had three credit cards that were maxed out "just due to life." He was relying on credit cards to keep up with his payments and, eventually, took a loan through Prosper to consolidate his debt. Now, Nik is singing the praises of Prosper (literally) and finds it "easy peasy" to get his finances in order."

Sponsored Links by DQ Promote