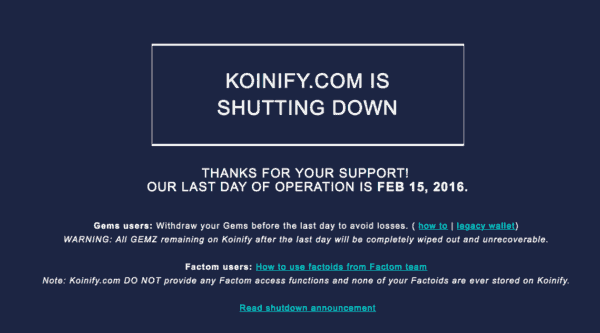 Koinify, a crowdfunding platform for cryptocurrency projects, will cease operating website and data custody operations, essentially deleting all wallets and coin holdings of users who participated in campaigns and did not move their coins elsewhere.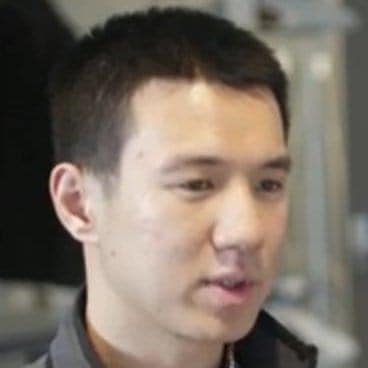 "Following previous notice, please note that Koinify site is officially shutting down by Feb 15th, 2016. After that, all Koinify website functions and data, including wallet and any remaining tokens not withdrawn by users, will be completely wiped out and no longer available," blogged Koinify founder Tom Ding.
Ding, who has already moved onto a new autonomous finance project called String, urged Gemz Users that "to avoid any loss of GEMZ, please do make sure to withdraw your GEMZ immediately." To Factom Users he wrote, "To use or exchange your Factoids purchased on Koinify, you must use tools provided by Factom team directly. Koinify.com DO NOT provide any Factom access functions and none of your Factoids were ever stored on Koinify."
The platform was setup as a crowdfunding vertical for Blockchain 2.0 ventures and projects. Koinify used the Counterparty protocol to issue project-linked tokens, known in the industry as appcoins, to raise funds. However, Koinify only managed to host campaigns for two appcoin vehicles, Getgems and Factom ("a highly regarded blockchain-based distributive application project, selling 4,379,973 Factoids to over 1,500 people in May 2015, and raising 2,278 bitcoins or around $540,000 at the time") before ceasing operations, reported allcoinsnews Co-founder Hans Lombardo: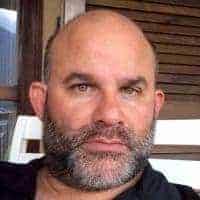 "The first project to raise funds on Koinify, Getgems, is a messaging application that permits users to send cryptocurrency to other members of the network. Relying on the open source Telegram application as a messaging infrastructure, Getgems raised 2,633 bitcoins by selling around 38 million proprietary tokens called Gemz in December 2014."
The shutdown won't impact many users, according to Lombardo. Only holders of Gemz, worth maybe one US cent per token, need to withdraw funds from their legacy Koinify wallet. Factom's Factoids were never stored on Koinify.
"Nonetheless, cryptocurrency crowdfunding platforms, such as Koinify, Swarm and Blocktrust, have not been sustainable, perhaps a result of regulatory uncertainty or the volatility of bitcoin," opined Lombardo. "The only current exception to this is Hong Kong-based Bnktothefuture.com, which is thriving by serving bitcoin or blockchain ventures such as Bitcoin Group, BitPesa, Factom, ShapeShift, Startchat, Startcoin, Satoshi Point, Storj.io,, Tibdit, UnoCoin, Uphold, and most recently Synereo."