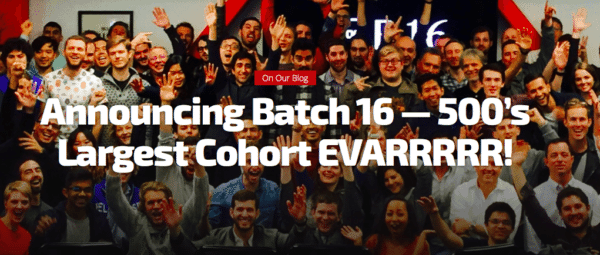 Partner Susan Su announced 500 Startups Batch 16 on the fund's blog, celebrating the largest accelerator cohort in 500 Startups history with 53 companies in total. Batch 16 presents five major industry themes, including FinTech, Digital Health, ViceTech, HR/workforce development and SportsTech.  To date, 500 Startups has invested in well over 500 companies, over 1500 companies in fact. With over 3,000 founders in over 50 countries, the fund has made its reach global.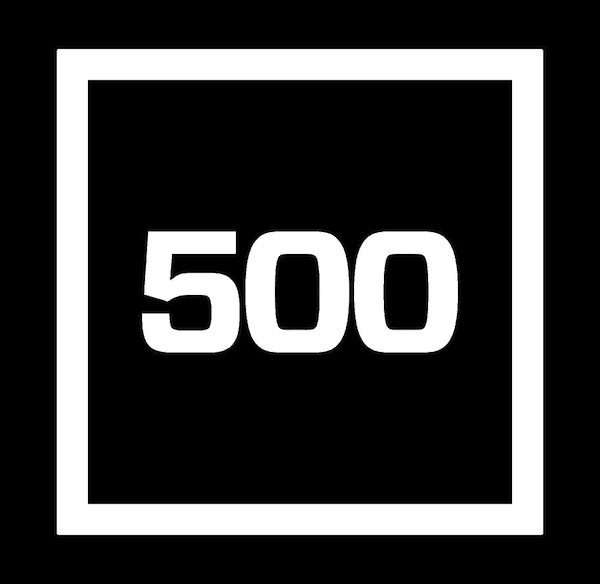 Further details about the latest batch: A majority of the Batch 16 companies are later-stage seed companies making between $10,000 and $100,000 per month in revenue. As has been the case with recent batches in the 500 Startups accelerator, they will focus on distribution and fundraising. Diversity of the accelerator company founders remains strong: 26% of Batch 16 have at least one female founder and 32% are from outside Silicon Valley or the U.S.  Below find the batch members and brief descriptions compiled and hyperlinked (to AngelList) by TechCrunch.
Ader – Influencer marketing for Twitch.tv
Albert – Simple financial planning on your phone
AmpleMeal – Healthy, convenient meals in a bottle
Angel Sensor – Wearable sensor and open source platform for mobile health developers
Arka – A pain-free way for companies to source custom product packaging and fulfillment online
ArrowPass – NFC event management solution for gate control and offline cashless payments
BGlamor – Online shopping app for women to get the best things from China
bigfinite – Regulated IoT and big data analytics for optimizing pharma & biotech manufacturing processes
BottlesTonight – Mobile marketplace for booking bottle service
BREWPUBLIK – Custom-tailored craft beer delivery
BuildCon – Mobile SaaS for scheduling, collaboration and communication on construction projects
Cognuse – Comprehensive rehabilitation platform for chronic care
Easy Ten – Language learning mobile app
Faception – facial recognition technology
Finova Financial – A socially responsible online lender transforming the auto title lending industry
FoxType – App that helps you improve your writing with AI
HandStack – Marketing tool for engaging millions of people via text messaging
HelloFloat – A mobile-first credit card minus the credit check
iBillionaire – Mobile app that helps you invest with billionaires
iGrow – Platform that connects sponsors, farmers, land owners, and crop buyers.
Indemand – A plug and play platform powering on-demand businesses
Ingu Solutions – Reliable monitoring of critical infrastructures
M-vendr – A mobile POS for small retailers to resell prepaid products and accept cash payments
MaestroConference – Conferencing software for engaging conversations
ManyChat – Live chat with your customers through popular messengers
Mars Reel – Sports network for mobile millennials
Mentimeter – Mobile polling software during presentations
Neutun – Wearable software for chronic conditions
nurseVersity – Edtech platform that helps nurses pass their professional licensure board exams
OpenSponsorship – A sports sponsorship marketplace connecting brands with athletes, events and teams
Phenom – Community of young athletes to share stories about their athletic products and achievements
Pilotly – A platform that enables creators to test their content against targeted audiences at scale
Podozi – Authentic and appropriate beauty commerce for women of color
Qualio – Life sciences quality management made simple
Qwil – On-demand pay for the on-demand worker
RapidAPI – Code-free backend platform for web and mobile developers
Resource – Candidate Sourcing as a Service
Riide – Electric bikes designed for urban transportation sold as a monthly subscription service
Rize – A powerful automated savings tool based on behavioral science
Romit – Wallet and payment platform for underserved customers and industries
Simplifund – Simplifying alternative investments
Tackl – University talent inventory powered by smart matching
tagMonkey – Real world asset tracking in the cloud
Ticktate – Concert tickets at box office prices
Transtutors – Building artifically intelligent teaching assistant for college students
UpCraft Club – Leading source of digital sewing and crafting patterns
Voyajoy – Vacation rental management
WorkAmerica – LinkedIn for the skilled trades
WorkGenius – Scheduling and support platform for hourly workers
Worthix – Scientifically designed customer survey that uncovers what's behind customers' decisions
YoDerm – On-demand acne consultations from online dermatologists
YouStake – Marketplace to invest in your favorite poker players
For the full scoop on Batch 16, click here.  Interested in being a part of 500 Startups' Batch 17? You're in luck, applications are available here.