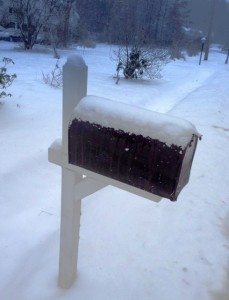 After a brief interlude thanks to the snowstorm otherwise known as Jonas, Mailbox is back with some cool rewards-based crowdfunding campaigns.
First up we have a floating plant. We have seen other floating campaigns before but I believe this is the first floating plant to be crowdfunded.  And this is not just any plant but a Bonsai plant with origins from an atelier in the island of Kyushu in Japan.  These plants are appropriately called "Air Bonsai" because they levitate, of course.  The levitation is accomplished with a magnetic "energy base" and the top half called "little star".
Bonsai plants have a long and hallowed history with its origins in Japan going all the way back to the 6th century.  But the Air Bonsai brings a modern twist to a cultural pursuit that is so identified with Japanese culture.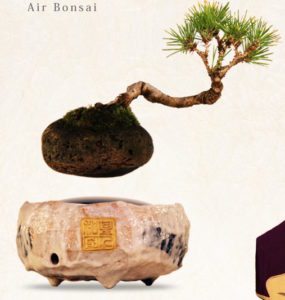 Crowdfunding on Kickstarter, the project just launched on January 21st and has now topped $550,000 on a goal of just $80,000.  The creators state they meticulously prepared for the campaign during the past 1o months but I wonder if they had any idea how successful the Air Bonsai would become.  Complete versions start at $200 but the high-end, hand made, Air Bonsai cost a bit more. Most of the custom version have sold out. Just one of the $10,000 versions was available at last reading so you better hurry. These 21st century Bonsai are expected to ship in August of 2016.
While some of us are blessed with the talent to paint and draw, or perhaps have friends that are willing to create cool art for you – most of us purchase art to cover our walls and shelves. Sure you can enlarge your own photos (something I do a lot) but wouldn't it be cool to create some wall art using paint? Well. now we have SprayPrinter.  A piece of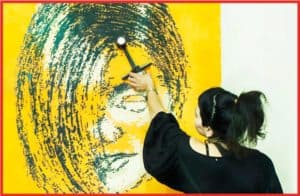 hardware that pairs with your smartphone to spray paint impressive designs. The heart of the technology exists in the electromagnetic valve that allegedly can open and close an incredible 200 times per second.  According to the creators, this means you can "print" 200 pixels per second as easy as using a brush.  The device has an LED light that is tracked by your smartphone. This is combined with additional data from the accelerometer and gyroscope to generate an accurate position of the SprayPrinter.
Just add the water based paint and select a design and off you go.  A SprayPrinter, crowdfunding on Indiegogo, retails at $149 plus shipping. Expected delivery is December 2016.
It almost makes sense to create a unique category on crowdfunding platforms for watches. There have been so many different watch campaigns, for both traditional and smart devices, I have lost count. As a category, this sector has done amazingly well.  Watches are a very personal and popular item. Remember the Pebble Watch?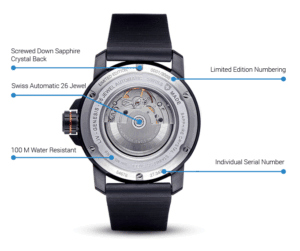 Today we have LIV (back once again) with an all Swiss Automatic Watch. LIV has gone all out to deliver a top-shelf product at a very reasonable cost. You know they nailed it as backers blitzed to back the project. Five of the early pledge levels are long gone. According to the campaign creators, it took just 34 minutes to hit the $40,000 funding goal. As of today, over 860 backers have pledged just under $400,000.  That's a lot for a watch.  And the watch looks simply awesome.  As they say, there have been plenty of watch campaigns using Chinese/Japanese movements but they decided to go Swiss or go home. This may be the best automatic watch available for under $500. Crowdfunding on Kickstarter.
---
Air Bonsai is a floating star. How would you like to plant your country's very own bonsai and make a wish on that "little star"?
Air Bonsai is comprised of two components: the top half "little star" and bottom half "energy base".
Watch how to transplant your favorite plant to the Air Bonsai. There are two types of transplanting mediums: moss and lava. Nurture your plant and watch it thrive!
SprayPrinter is a wireless device that converts digital designs into wall art from your smartphone. SprayPrinter is a device that delivers designs and images from your smartphone to any wall.
On your Smartphone you have to have the SprayPrinter application that is included in the price. From there you choose the design you like and load it to the printer via Bluetooth. Once that is done you are ready to set up your phone on a stable platform or a tripod facing the camera toward the wall you want to decorate. You can adjust the size and the position of the design by moving the phone closer or further from the wall. You can see how the design will look on you wall through your phone's screen. Now you are ready to print.
A Swiss Made Automatic Watch with Double Sapphire. Inspired by passion and built by hand. Delivered to you at an accessible price.
The creators of the most backed Swiss watch project on Kickstarter present the first Swiss AUTOMATIC under $500.
The LIV GX1-A is assembled in Switzerland, infusing the watch with a sense of history and tradition known for unrivaled quality and precision.
Sure there are plenty of cheaper Chinese and Japanese movements, but not for us!
The LIV GX1-A Swiss Automatic Watch features the accurate Sellita SW200 Swiss Movement.
Have a crowdfunding offering you'd like to share? Submit an offering for consideration using our Submit a Tip form and we may share it on our site!