Taking time away from her recording studio schedule, singer and songwriter Monica Rizzio sat down to discuss her crowdfunding experience through PledgeMusic.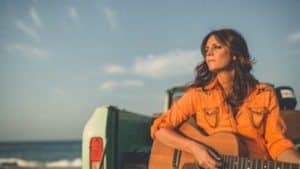 Monica took to PledgeMusic to raise funds for her new album, Washashore Cowgirl. The album is set to release on March 6th. She noted that her songs are autobiographical, often times delivered in a fictional approach, sometimes with humor, and sometimes so strikingly honest she can feel the pain in her voice.
While chatting with the crowdfunding platform, Rizzio shared details about her time with the band, Tripping Lily:
"I was in a band called Tripping Lily for 10 years. We wrote music. We lived together, we toured together, we did everything together. I think it came to a point where I was really ready to step away from that and do my own thing. Growing up in Texas, I think I wanted to get back to my country Texas roots and explore that. It had been out of my life or a good decade. It's definitely a different feel when you have a band rather than hired players. I'm still searching for that connection with people, that they are my bandmates.

"I never really knew how people on the other side felt. I see some people playing with all of these different bands. I had these three committed people, who were all in on touring, writing music, recording. But it got to a point when I was just so ready to be on my own. I didn't want to go back and ask the band to make sure everyone was on board with something. I didn't want to be the person to say, 'No, I don't think we should do that' or 'I'm not really feeling that.'"
While opening up about her break from music, Rizzio commented:
"I definitely took a little bit of time away from music. I don't know how much time I could really take away from it, because I am in music school. I also teach music as well. But I needed time to find my musical self again."
In regards to working direct-to-fan on PledgeMe, Monica added:
"It's been really great. There are people on there who have pledged who I don't even know. I've personally sent out emails to everyone who has pledged, just letting them know how much I appreciate it and trying to get a little more personal with it. I want to see where they're coming from. It's just cool that someone from Sweden and another from Australia wants a signed CD. That's very cool, since they've never met me. But the process has been great."
Have a crowdfunding offering you'd like to share? Submit an offering for consideration using our Submit a Tip form and we may share it on our site!