Indiegogo's Slava Rubin has been announced as a speaker at Informa-sponsored Internet of Things World 2016.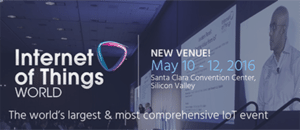 Internet of Things World is considered the world's largest and most comprehensive IoT event. Over 10,000 attendees, 300+ industry though leaders and 150+ exhibitors are present during the event:
"With a focus on monetizing the IoT revolution through bringing together ecosystem wide attendees, stakeholders and investors, Internet of Things World is a unique opportunity to promote your IoT message right in the heartland of IoT development. 2015 was an important year for IoT with huge opportunities of this technology firmly being realized.

"The 3rd annual Internet of Things World is the only independent business event dedicated to IoT. It assesses the key horizontal challenges affecting the range of vertical markets while also featuring dedicated tracks looking at industry-specific issues."
Rubin's profile reads:
"Slava Rubin is the Chief Business Officer, co-founder, and former CEO of Indiegogo, a company dedicated to empowering people from all over the world to make their ideas a reality. Slava is responsible for continuing to establish Indiegogo as the go-to funding platform by building innovative products, creating exciting partnerships, and exploring a variety of new initiatives. Prior to Indiegogo, Slava was a strategy consultant and is the founder of  Music Against Myeloma. Slava represented the crowdfunding industry at the White House during the signing of the JOBS Act and has played a crucial role in working with the White House and the SEC to finalize the rules and regulations for equity crowdfunding."
Internet of Things World 2016 will be held May 10th-12th at the Moscone Center in San Francisco.