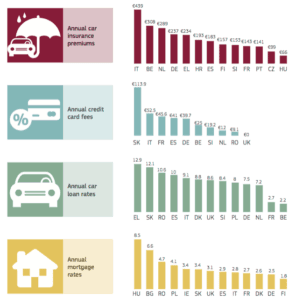 The European Commission is in the midst of a consultation as to how they may improve retail financial services to consumers across Europe.  The challenge, of course, is not just within individual countries, but in the diversity of cost, structures and regulatory approaches that pepper the continent. The European Union is great in theory but a significant challenge in reality. Individual countries are understandably hesitant to remit regulatory changes to the folks in Brussels. But this does not mean the effort lacks merit. To the contrary. Cross-border competition can drive consumer choice and more effective pricing and innovation. Inducing competition remains the key.
The EC published a Green Paper on retail financial services this past December. It is all about creating a true European market for retail financial services. If you are so inclined, you may submit your opinion here. But it is interesting to see the diverse disparity between costs of financial services, contingent upon where you live.
The document below is a Factsheet published by the EU that shows you where the prices are high and where they are low. While you would expect regional differences the cost differentials are dramatic depending on which country you call home.
[scribd id=300692049 key=key-4IgFVv9rkytvduh5f8Dc mode=scroll]