Yirendai Ltd. (NYSE: YRD),  an online consumer finance marketplace in China, announced this week it will be considered as the first online consumer finance marketplace in China facilitating consumer loan products with asset-backed security ("ABS") structure.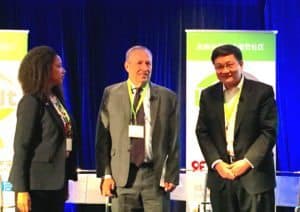 Yirendai reported that as part of its strategy to diversify and expand investor base from individual to institutional investors, the company established a business relationship with a trust (the "Trust") in October 2015 under which the Trust extended loans in an aggregate principal amount of RMB250 million to borrowers on Yirendai's online marketplace.
The original beneficiary of the Trust has transferred its beneficiary rights in the Trust to a special purpose vehicle, which has proposed to issue and list RMB250 million ABSs for trading on the Shenzhen Stock Exchange in China.
Ning Tang, executive chairman of Yirendai, stated:
"This is a very important strategic step forward for Yirendai. Facilitating consumer loan ABS products in China will expand our sources of funding and enable us to better serve borrowers and investors through our online marketplace."
Sponsored Links by DQ Promote