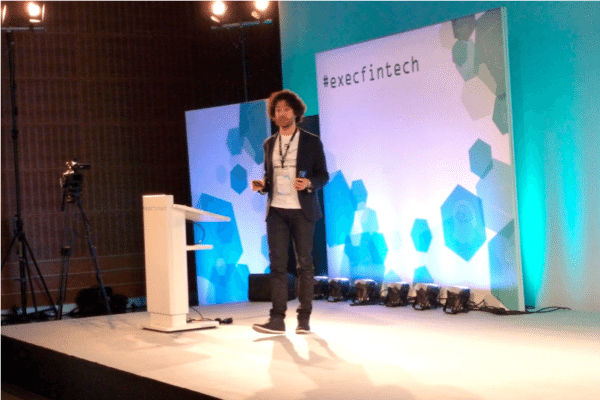 When thinking about Frankfurt, Finance immediately comes into mind. But FinTech? Not necessarily. Well, if it goes according to Execfintech, this is about to change.
In its 3rd edition, Execfintech is a Fintech networking event, part pitching and part conference style panels and presentations – with a lot of time and space reserved for networking and business speed dating. The location on the campus of the University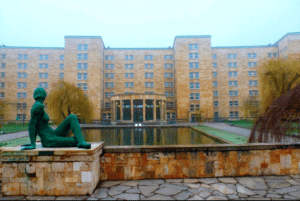 of Frankfurt creates a relaxed, back-to-school type of atmosphere that is in fitting with the founder Ramin Nibkin's slogan of no VIP, no BS and Give before you ask.
This edition gathered 600 participants from 30 nationalities including 53% startups, 23% corporate and 20% investors – the remaining 4% being people like "votre serviteur". The FinTech companies pitching were mix of payment companies (Birdee, ashila, Infinity Space, SEPA Express, Twisto), robo advisor and analytics  (Euklid, Predictr, FNA, Growthstreet, Intelligent Recommendations, Satoru, Scalable Capital, Sentifi, Swipebox, XWare42) , banking, insurance and trading back office (Atsora, Finotek, Fintecsystems, Kasko, SDK Finance, Trov), Personal Finance Management (GinMon, Whitebox) and, last but not least, several marketplace lending players (Crosslend, Crowdesk) on which I am reporting in a separate article.
The marked difference between this program and the program of the last edition of Finovate pitches lied in the number of startups pitching a crypto-currency, blockchain, or bitcoin business (Coinify, Epiphyte, Quantoz, Eurakos, Stratumn ). If bitcoin is passé in London, Frankfurt still believes in it.
Talking about London, one major question on my mind was why has Frankfurt –being the continental European capital of finance– not taken a stronger lead in FinTech? I posed the question to the participants.
Firstly, all agreed that Germany is in a catch-up mode with the UK's FinTech ecosystem. The German startup scene has awakened late to the FinTech opportunity. Several factors explain this.
When the FinTech revolution started in the UK, it was first imported into Berlin. Berlin was the heart of the digital 2.0 revolution, of eCommerce marketplaces, social media etc. but it was not attuned to finance.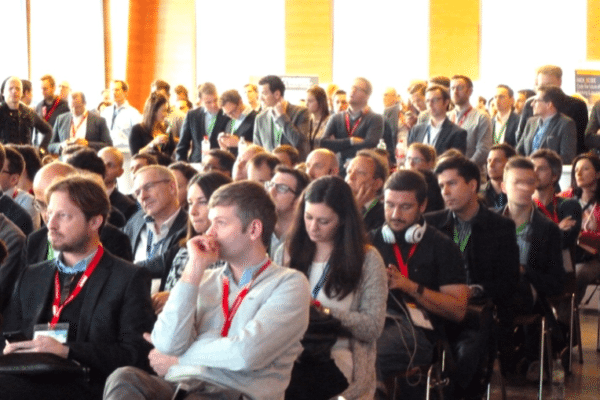 On the other hand, Frankfurt was definitely not a startup scene a few years ago. The German traditional finance sector there was focused on its own issues and remained immune to the global FinTech opportunity. In addition, the German regulator Bafin was very defensive and basically stifling any innovation. Last but not least the cultural makeup of German entrepreneurs leans towards perfectionist and they tended to wait for the perfect product before blowing the horn of German FinTech.
However, 2015 was a turning point. Banks and other financial institutions like Commerzbank founded corporate FinTech investment arms and FinTech accelerators others like private Bank Sutor cooperated with startups like Zinspilot  (a Peter Thiel investment), Executives like Anshu Jain, ex-CEO of Deutsche Bank joined startups. Finally, startup bank like Fidor started to be successful and woke the establishment for good.
The German FinTech community is now buoyant, as can be seen from the yearly doubling in the number of attendees at Execfintech which went from 160 in 2014 to 350 in 2015 and 600 this year. Berlin is still active but Frankfurt has become the place to be.
By the last count, there are 60 FinTech startups in Frankfurt according to Jochen Biedermann from a Frankfurt FinTech Development agency:
"These startups are not your usual 23 year old ran- back of the envelope startup, they're run by managers who are on average 35 to 40 years old and have many years of experience in the traditional finance sector."
Ramin adds: 
"I have been working in the Tech startup competition for 5 years and in FinTech for three years and the level of applicants that we get in FinTech is much higher."
Thank you to Julius, Michael, Christian, Marco, Matthias, Stefan, Duc, Julia, Mihai, Carsten, Olivier for sharing.
---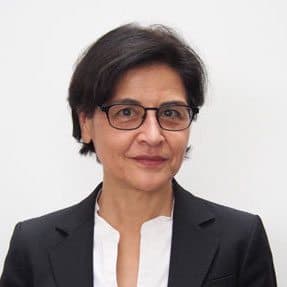 Therese Torris is an entrepreneur and consultant in eFinance and eCommerce based in Paris. She has covered crowdfunding and P2P lending since the early days when Zopa was created in the United Kingdom. She was a director of research and consulting at Gartner Group Europe, Senior VP at Forrester Research and Content VP at Twenga. She publishes a French personal finance blog, Le Blog Finance Pratique.

Sponsored Links by DQ Promote